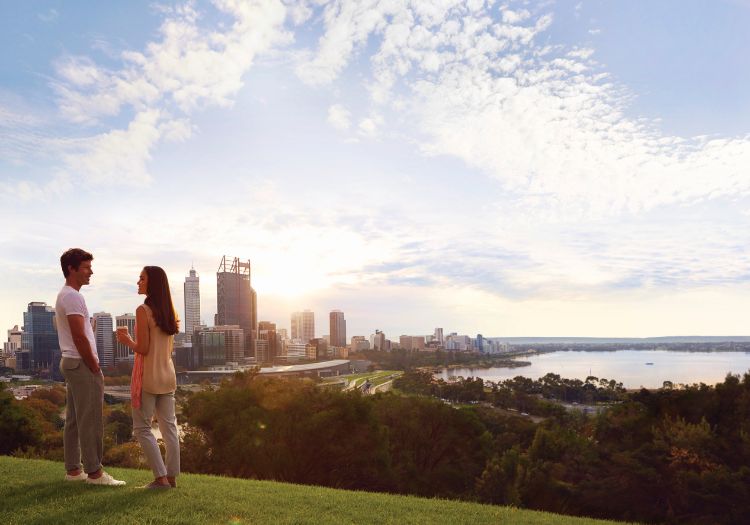 Visit Australia for the ICC Men's T20 World Cup
The men's short format tournament is taking place for the first time…and here's how you can balance your cricketing days with an exciting travel experience
PROMOTIONAL CONTENT
Travel down to watch England challenge for the ICC Men's T20 World Cup in Australia's stunning coastal towns. Soak up the sun and cricket before exploring some of the best experiences Australian cities have to offer.
Away from the host cities, you can also enjoy pristine beaches, gourmet produce in verdant wine regions, natural wonders where you can spot famous Australian animals, and the rich red sands of the Outback.
You'll be royally entertained by the action on the pitch and come away from your Aussie adventure with new friends and lasting memories…
PERTH
Fly direct from London to Perth, Australia's sunniest city, and experience 19 beaches, an island paradise and wildlife encounters. From friendly quokkas to passionate producers and local guides, the locals give you a welcome as warm as the weather. England will start their tournament here on October 22.
When you're not at cricket…
• Just 30 minutes by ferry from Perth you will find Rottnest Island, with its stunning beaches, unique wildlife and spectacular scenery. Admire fur seals, ospreys, turtles, dolphins and quokkas, the happiest animals in the world!
• Fremantle has colonial architecture, trendy shopping streets and lively bars and restaurants.
Outside the city
• Just three hours drive from Perth, the Margaret River Region has stunning beaches and coastal walks, and is one of Australia's most renowned food and wine regions. Cellar visit to do
• Just three hours' drive from Perth, the Margaret River region has superb beaches and coastal walks, and is one of Australia's most renowned food and wine regions. Visit the wineries, eat fresh seafood straight from the ocean, and sample local cheeses, chocolates, and truffles.
Adelaide Central Market [supplied]
ADELAIDE
Explore over 200 caves, get up close to Australian wildlife and relax on stunning golden beaches. Key matches at the magnificent Adelaide Oval include the semi-final.
When you're not at cricket…
• Participate in the ascent of Adelaide's Oval Roof for stunning views of the cricket ground, the city and the Adelaide Hills.
• Ride from Mount Lofty on mountain bikes through native bush or through the forests and vineyards of McLaren Vale.
Outside the city
• Kangaroo Island, just under 2.5 hours drive/ferry or 30 minutes flight from Adelaide is probably the best place to see Australian wildlife in the wild. Kangaroos, koalas, wallabies, sea lions, echidnas and many species of birds call the island home. Visit Flinders Chase National Park, Seal Bay and the wineries, craft breweries, sample freshly shucked oysters and sample award-winning Kangaroo Island gins.
The Melbourne Skyline [supplied]
MELBOURNE
Melbourne is the ideal gateway to discover Australia. Discover alleys and rooftops with trendy bars, beautiful street art, fantastic beaches, outdoor restaurants and cafes serving some of the best coffee in the world. England will play at the MCG on October 26 and then against Australia in a huge game on October 28!
When you're not at cricket…
• Take a hot air balloon ride and soar over the MCG, Eureka Tower and Port Phillip Bay.
• St Kilda beach, famous for its promenade lined with palm trees, its superb sunsets and its little penguins.
Outside the city
• Drive the spectacular Great Ocean Road, which winds along the wild Southern Ocean in a stunning 90 minute journey from Torquay to Portland. Admire the 12 Apostles (natural limestone stacks), get up close to native wildlife at Wildlife Wonders and learn about Aboriginal culture at Tower Hill Wildlife Reserve, where you can also spot koalas, kangaroos and emus.
Uluru, Northern Territory [supplied]
NORTH TERRITORY
Australia's Northern Territory stretches from the center of the country to the coastal capital of Darwin, famous for its markets, crocodiles and strong Aboriginal culture.
Visit the Red Center for stunning scenery and some of Australia's most sacred Aboriginal sites, including Uluru and Kata Tjuta.
Bruny Island [supplied]
HOBART
Enjoy thriving markets, an unparalleled natural setting and a tangible sense of history. Hobart's Blundstone Arena will host nine matches of the ICC Men's T20 World Cup.
When you're not at cricket…
• Enjoy a Pennicott Wilderness Journey and see towering cliffs, spot dolphins and seals or pick fresh seafood straight from the water.
• Meet Tasmanian devils at Bonorong Wildlife Sanctuary.
Outside the city
• Take a trip to Bruny Island for its natural beauty, fresh oysters and delicious cheese.
Brisbane cityscape [supplied]
BRISBANE
Australia's Nature Capital is a vibrant city full of new hotel, neighborhood, restaurant and bar openings. Watch England at the Gabba on November 1.
When you're not at cricket…
• Climb the iconic Story Bridge for a bird's eye view of the magnificent skyline, mountains and nearby islands.
• Take an art class at Birrunga Gallery, the brainchild of First Nations artist and curator Birrunga Wiradyuri, and learn under the tutelage of some of Brisbane's most talented Indigenous artists.
Outside the city
• Take the 1.5 hour flight from Brisbane to Hamilton Island or Proserpine for the Whitsundays. Made up of 74 incredible islands, the Whitsundays are at the heart of the Great Barrier Reef and home to jewel-colored coral cays, stunning marine wildlife and luxury.
Sydney Harbor Bridge overlooking the Opera House [supplied]
SYDNEY
Iconic landmarks, a famous harbour, dazzling beaches, breathtaking views and incredible local beaches. Expect fireworks when England play at the SCG on November 5.
When you're not at cricket…
Climb the Sydney Harbor Bridge for stunning views of the harbor and city skyline.
• Join Auntie Margret Campbell of Dreamtime Southern X for the Royal Botanic Garden's 90-minute Aboriginal Culture Walking Tour.
Outside the city
• Just 90 minutes drive from Sydney, the UNESCO-listed Greater Blue Mountains region is renowned for its stunning sandstone escarpments and deep valleys. There are accessible hiking trails through the ancient rainforest along the Scenic Walkway for spectacular views and longer walks, like the Grand Canyon Track, a 6.3km loop that starts at Evans Lookout in Blackheath.
You can find out more here
Please ensure that all fields are completed before submitting your comment!