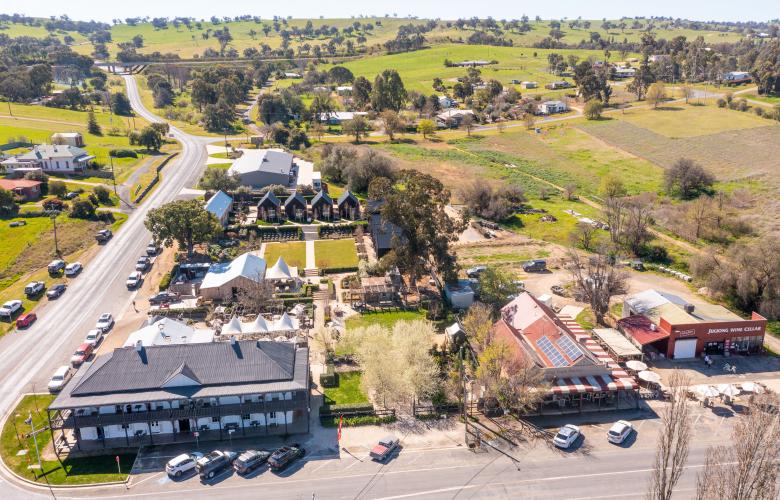 The Sir George Hotel Jugiong for sale CBRE Hotels
The freehold business of the iconic Sir George Hotel, located along the banks of the Murrumbidgee River, has entered the market.
Located along the Sydney-Melbourne and Canberra-Wagga Wagga route at 320 Riverside Drive, Jugiong, the Sir George Hotel is an immaculate hotel and one of Australia's most recognized stopover locations.
CBRE Hotels directors Tom Gibson and Paul Fraser have been appointed exclusively by owners Liz Prater and Kate Hufton to manage the expression of interest campaign which ends at 12:00 p.m. (AEDT) on Wednesday, October 27, 2021 – except prior sale. .
"This is an incredible opportunity to acquire a very profitable and well positioned freehold business with no capital outlay required," said Mr. Gibson.
Built in 1845, the hotel is famous for being the oldest singularly owned alcohol licensing establishment in Australia, spanning over 165 years.
The hotel has a diverse and well-established business with 11 luxury accommodation suites, indoor and outdoor restaurant and bar, The Curators Collective / Sir George HOME Retail Store, the most popular onsite bakery in the area and extensive gardens perfect for hosting weddings and events.
"Rarely does a hotel enter the market that offers the investment protection of a solid business history without capital expenditure, along with a highly strategic location. It will be a highly sought-after investment for both institutional groups and lifestyle investors, "said Mr. Fraser.
The offer also includes a private four bedroom residence located around the corner from the hotel.
The area is a popular weekend getaway retreat to explore the Murrumbidgee River and Hills area, with famous guests such as Chris Hemsworth and Matt Damon.
To request a sales analysis, please contact the CBRE Hotels sales agents. Tom Gibson and Paul Fraser via the contact details below.
See the video of the property here.