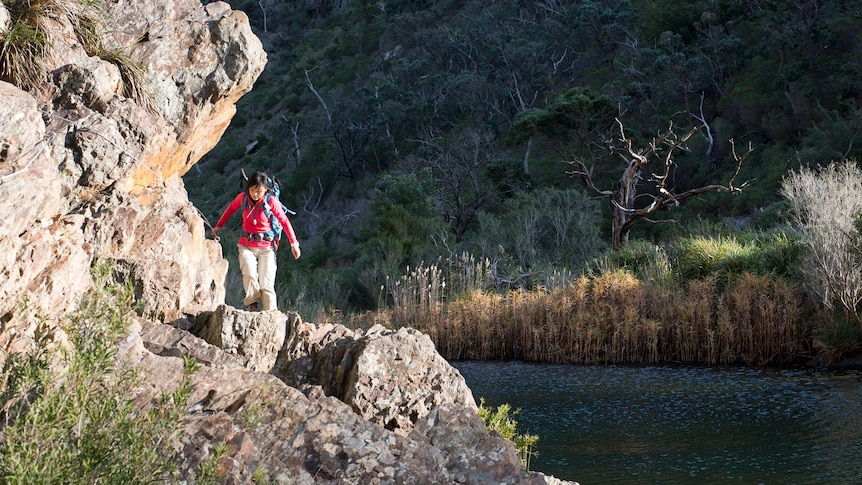 The best free nature walks in and around Melbourne
[ad_1]
What is the quality of life beyond your 5 kilometer radius?
Ben Rossiter, general manager of Victoria Walks, said the Melburnians were eager to get out and get around this summer.
After our last lockdown was lifted, he says the charity's online walking card collection has seen a "massive spike." [in traffic]"- and he doesn't find that surprising at all.
"When we walk, especially in nature, the world gets bigger," says Ben.
"We see more. We feel more. We hear more. We are much more in touch with our environment and with others."
Sounds pretty good, right?
But, if you're new to recreational walking (like me), you might need a few recommendations.
I asked Ben and Joyce Watts, who runs a popular website specializing in family activities around Melbourne, their best walks for this summer.
The best walk with kids – Yarra Trail
Joyce says there are two things you should look for when walking with children (especially young children):
A path that you can enter and exit, so that you don't have to go through a huge stretch.
Incentives like playgrounds, picnic areas and cafes.
And the Yarra Trail, which runs from Southbank to Templestowe, ticks both boxes.
"Obviously the trail is very long (33 km), but you can only take part of it," she says.
"If you are in town, you can stop at the playgrounds around Birrarung Marr. If you are near Abbotsford you can hop on the Collingwood Children's Farm.
"It's really green there. It doesn't feel like the city is that close."
If you live in the inner suburbs, walking along the Yarra might seem a bit mundane but, as Joyce says, "a nature walk doesn't have to be a huge expedition with huge expectations on what you're going to. do or see ".
Best Coastal Walk – Williamstown to Altona
During the summer there are huge crowds around the St Kilda foreshore and all along the Mornington Peninsula.
But, if you like things a little quieter, Ben says the West is the best.
"Williamstown to Altona is long. It's about a 14 km day hike, "he says.
"But it's also very accessible by train. You can take a train to Williamstown Beach station, walk to Altona and come back on the Werribee line. You don't have to go back.
"There are also a lot of coastal parks along the way and also the Jawbone Marine Sanctuary."
Joyce, who lives in the area, says Altona Beach in particular is a real "hidden gem" – perfect for those looking for a shorter walk.
"It's so beautiful, the path is really wide and the beach is shallow," she said.
"Depending on what time you go, you can often walk to the sandbanks.
"And, because the sun is setting in the west, you get views that you don't get anywhere else in Melbourne."
Best Accessible Walk – Serendip Shrine
Loading
Do you really want to get closer to nature? Ben recommends Serendip Shrine.
60 kilometers from Melbourne and 20 kilometers north of Geelong, it is home to all kinds of wildlife, including kangaroos, wallabies and emus.
"There are five interconnected trails for all abilities across the shrine," says Ben.
"And each trail is less than 2 km. I think a series of shorter steps may be more appealing to some people!"
There are also wheelchair accessible toilets, disabled parking and large picnic areas.
If you'd rather not make the trip from Melbourne, however, Albert park lake is a good alternative. The wildlife won't be as impressive (you can expect a few swans) but, as Ben says, "there are good parking lots and facilities, and everything is flat".
The circuit around the lake is 4.8 km.
The best walk for a day trip – Kurth Kiln Walk
When you leave town what you really want is a change of scenery. And, for Ben, that means going straight into the bush.
" A summer day, Kurth Oven Walk can be pretty impressive, "he says.
"There is a beautiful loop that follows the creek up and down. And, when you walk, you really get immersed in the forest."
The walk, which is just under 2.5 miles, takes place about an hour and a half outside of Melbourne, northeast of Gembrook. And you can also bring your dog with you (but he will have to stay on a leash).
Joyce also recommends the You Yangs and Werribee Gorge – but adds that these might not be suitable for young children who likely won't enjoy the walk or the view.
"We are so lucky around Melbourne," she said.
"We have the coast. We have the mountains. We have the plains. It's so good to be able to explore your own backyard."
Everyday ABC in your inbox
Receive our newsletter for the best of ABC Everyday every week
[ad_2]