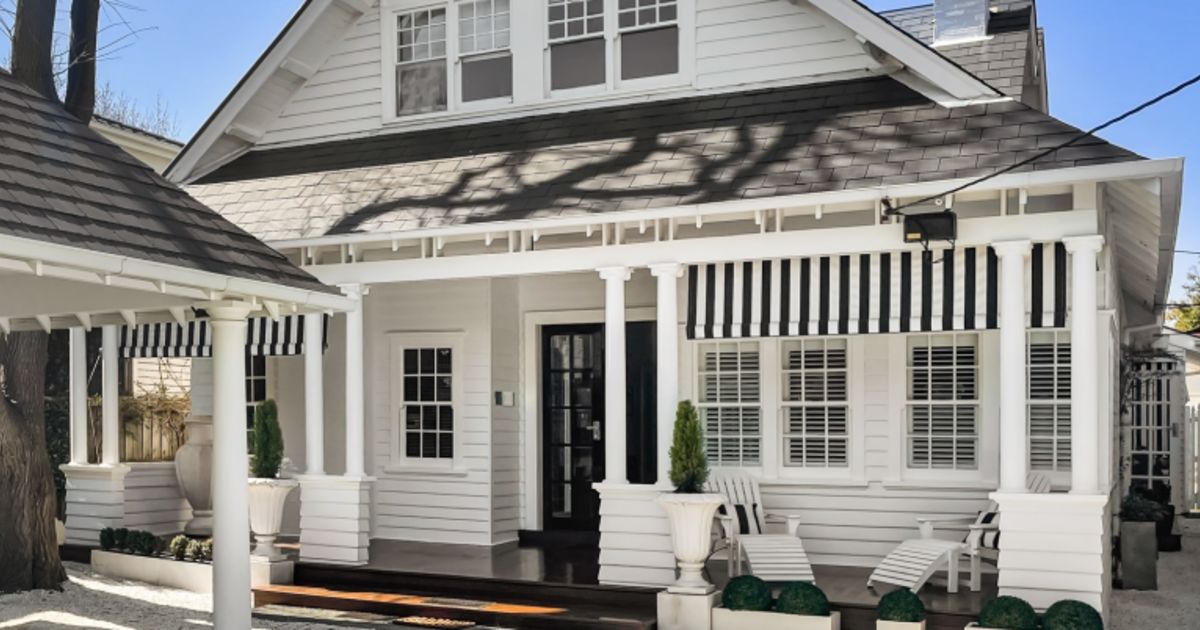 Ten must-see homes for sale in Victoria right now
Make an appointment to inspect this selection of must-see properties.
13 Caraar Creek Lane, Mornington VIC 3931
Hugging Beleura Hill, this glamorous trophy home boasts stunning coastal views with the town looming in the distance. The living areas, terrace and wrap-around pool make the most of the view. Designed to entertain, the home features multiple dining areas, an attractive kitchen with an AGA stove, and a serious pantry with professional prep areas. The entrance is on the first floor and the open concept living and dining room includes a suspended fireplace and a gas fireplace. The house is well zoned with the master bedroom on the first floor and the four bedroom suites on the ground floor. Luxuries include a home theater, a 1000 bottle wine cellar and an elevator. The luscious garden is easy to maintain and Mills Beach and the golf club are just steps away. "It has amazing views and it's reasonably priced for what you get," the agent says.
402 St Kilda Street, Brighton VIC 3186
Tucked away behind a tall fence, this charming Hamptons-style home ticks all the family boxes. The 1910 house with classic veranda has been lovingly renovated with a beachy feel. The three living areas include a formal wood-paneled living room, an elegant living room, and a spacious family room overlooking the pool. Two studies and the master bedroom are also on the ground floor, with three more bedrooms and a central bathroom upstairs. The galley style white kitchen is well equipped with a Belling cooker. It's on the Golden Mile, a short walk to the foreshore or the village of Martin Street, and close to schools.
1 Davis Ave, South Yarra VIC 3141
This former milk bar has made the transition to a sleek urban style with great success. The front salon gives a nod to its former life, with windows framing the streetscape. A glass ceiling floods the hall with light and leads to the open-plan living and dining area. Facing north, this spectacular space has glass doors leading out to a courtyard with barbecue, fireplace, parking space and plunge pool. The master bedroom is on the ground floor with two bedrooms and an office/bedroom upstairs. It is close to Chapel Street and Toorak Road. "This edgy downtown abode is low maintenance with a real wow factor," says the agent.
3/15 Wimbledon Ave, Elwood VIC 3184
This art deco ground floor interwar apartment is one of only four in a roughcast and clinker brick building named Arawa, noted in the Port Phillip Heritage Review as "characteristic of many" long admired buildings near St Kilda Botanical Gardens. A careful renovation of the elegant abode adds to the 1920s appeal of the rich carpentry, decorative cornices and ornate brickwork. A terrazzo porch faces the lush garden and the kitchen-dining room's patio doors open to the outside. "People appreciate the character, the space and the storage," says the agent.
5/46-52 Dow Street, South Melbourne VIC 3205
Downtown house hunters who need room to swing a cat will find this three-level townhouse equivalent in price to a modest period cottage but with enough space to house a young family, entertainment and to work from home. "There's a lot of house behind the front door," the agent said. "You get a third bedroom, larger indoor-outdoor living space, city views and secure parking space without compromising on location." The residence, built two decades ago in a small development, faces a bluestone lane at a Clarendon Street address.
104 Graham Street, Albert Park VIC 3206
"For presentation, you couldn't do better than that," says the agent offering this single-fronted Victorian cottage embedded in one of Bayside's finest and most sought-after heritage pockets. Its wide, leafy street is conveniently located between the beach, the shops of Albert Park Village and Gasworks Arts Park, with Albert Park College a short walk away. The fully remodeled and most recently revamped compact lock-and-leave block has vaulted ceilings, a back yard and a skylight that serves the master bedroom, central bath and kitchen.
22 McPherson Street, Moonee Ponds VIC 3039
It's all about family in this Edwardian home with a "magnificent street presence", the agent says. They will appreciate its tidy garden with a playground and the Queens Park area known as a 'schools hotspot'. The house, previously extended and renovated, has period c1910 features and has been refurbished by the vendors. A studio with mezzanine and veranda adjoins the double carport accessible from the back. "The studio was a huge plus as a home office, or it could be a bedroom or a board game," the agent explains.
206b/3 Brewery Lane, Collingwood VIC 3066
An engineered marriage of quirky industrial character and upscale furnishings in this downtown abode has resulted in a striking composition of texture and architectural form. The character of the old stable within the redeveloped Yorkshire Brewery is seen in the exposed brick walls that meet black wooden trusses on vaulted ceilings. The 2010 conversion adds a dramatic spiral staircase up to the second bedroom, marble surfaces and double glazed shuttered windows. Residents have access to a rooftop terrace, a gym, a barbecue area, a dining room and a library.
18 Meakins Road, Flinders VIC 3929
For those who dream of the sweetness of life, this rural estate is an attractive set. Spread over 10.5 hectares with views of the hills, the property includes two houses, a lemon and lime orchard (professionally managed) and, for those in a hurry, a heliport. There will never be a dull day here with a tennis court, putting green, swimming pool, playground and in-ground trampoline. The country-style main residence is welcoming with a lovely open-plan living space and kitchen overlooking terraced gardens. Four sets of French doors open to a large covered lanai – a great place to entertain family and friends. The master bedroom has a sumptuous en-suite bathroom, a guest suite and two further bedrooms. The detached cottage nearby also has four bedrooms. Additional bonuses include a spring-fed dam, greenhouse, and barn. "It's a sought-after location and the infrastructure is very good," says the agent.
17 Lyons Street South, Ballarat Central VIC 3350
This beautifully restored historic home in the center of Ballarat is a rare find. The 1908 Queen Anne House, influenced by Charles Rennie Mackintosh, balances period details with modern conveniences. With high ceilings and chandeliers, the formal living room and separate dining room are impressive. A north-facing bay window illuminates the contemporary kitchen and family room. There are two bedrooms (one is used as an office) downstairs and three upstairs, the main one with an elegant bathroom. In the summer, enjoy the pretty outdoor area while in the winter, stay cozy with hydronic heating and gas fireplaces. A class act in the city.