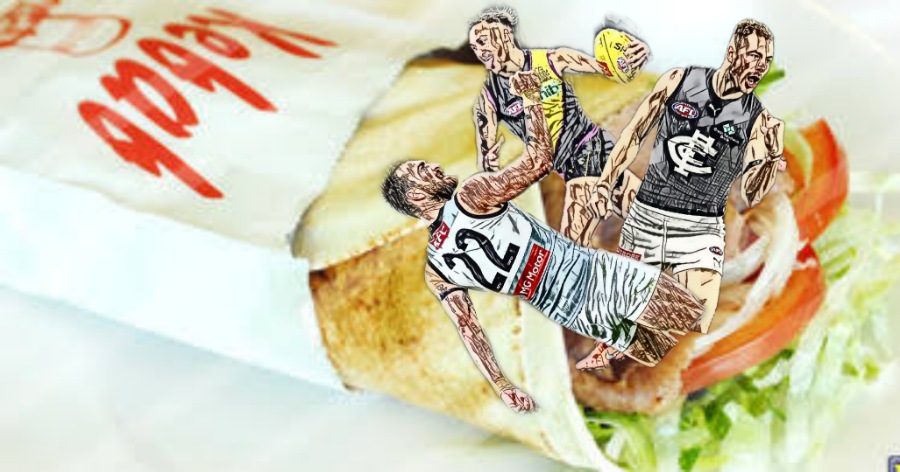 Round 14 takeaway kebab
Look, I know it's been several days. I wouldn't eat it myself…but hey, you might be in the mood to take a risk and eat what Josef Mack left over from Round 14.
Richmond Tigers 11.15 81 def. Carlton Blues 9.12 66
I don't know what Carlton was thinking before this game without key defenders. Of course, they may have twenty-seven backups on their list; but what contingency plan did they have in place when all were injured? Terrible list management of the Blues.
They almost looked like they ripped it off at the end, with a heroic performance of the big H in the final quarter. All the media is talking about is Shai Bolton's show-and-go to Sam Docherty, or the canceled goal; so I'm going to ignore all that and talk about football for once:
Have you seen that series of bananas pulled by Harry? My guy took a step and rinsed it perfectly… went about forty yards on the kick. Weird.
As for Richmond, they suddenly seemed to find their rhythm… It only took them a year and a half to do so.
Despite Carlton's strong midfield – which crushed the Rods earlier this year – Richmond managed to get the upper hand in clearances. A differential of forty to twenty-two was flipped to forty-one to twenty-seven the other way.
Notable changes are that Marc Pittonet was out for the Blues this time around, but Dusty was out for the Tigers…
The only possible conclusion we can draw from this is that Marc Pittonet is the greatest footballer to ever play football, and he is poised to win the next three Brownlow Medals.
St. Kilda Saints 11.6 72 defeats by. Essendon Bombers 15.17 107
Lmao what?
Is this really the score? Where the hell does that come from?
Watching this game, I could hardly believe what I was seeing. For example, I've seen upsets before… the best side plays badly; the worst side plays surprisingly well; very inaccurate best side kicks; the worst side gets a win.
Not the case.
15.17…to 11.6!!
The Dons absolutely spanked them, all around the park. On the contrary, they should have earned more.
Mason Redman looked like peak Dustin Fletcher. Dylan Sheil looked like peak Jason Johnson. And Jake Stringer looked like… well… pic Jake Stringer!
More importantly for the Bombers, their work rate was sensational through all four quarters of a football game. It just goes to show that the key to winning football matches is to try… and also to be good at football.
The Saints, however… as Brian Taylor would say, Boy-oh-boy-wowee. It's a long way to September now.
Currently eighth in percentage with Carlton, Freo, the Dogs, Cats, Lions and Swans twice – all still to play.
If they want to make it happen, Ratts will have to find a way to be a little more creative going forward. King and Higgins are great players but they can't do it all themselves; teams realize how predictable the Sainters have been to that end.
Plus, they'll need to make over thirty-eight tackles per game…a long way to go.
Port Adelaide Electricity 12.10 82 def. Sydney Swans 8.11 59
At the risk of spoiling an article I was thinking of writing on this subject; I want to use this game as an opportunity to talk about 'Supercoach Brain'.
Charlie Dixon was terrific this game, and his return does a lot of things that usually go unnoticed on the stat sheet.
First, he gets the main game for the Swans. Todd Marshall struggled earlier in the year, but really found his feet, even before the great Charlie returned.
But now that Dix is ​​back? Todd plays on someone his size and he enjoys it.
Because Dixon has scored fewer goals than Marshall (partly due to accuracy issues), this sort of thing goes unnoticed by those infected with the increasingly prevalent disease; known as "Supercoach Brain".
Those with Supercoach Brain love the Karl Amons of the world.
'Look how many hits he gets!' 'Absolute ball magnet.' "This is a shoe for all Australians!"
They are totally unaware that winning football games is about choosing the best option; and getting takedowns that bring the ball inside-out, not outside-in.
There are only two known remedies for Supercoach Brain:
The first is to have a life; and the second is actually playing a game of soccer.
Protect yourself and your children from this horrible disease at all costs.
West Coast Eagles 9.9 63 losses par. Geelong Cats 12.9 81
Ah… our old enemy… we meet again.
The enemy Geelong faces twice a year, potentially even a third time if we advance into September. The perennial powerhouse that still features at the time of the finals.
Of course, I'm talking about… the goodbye.
It doesn't matter where we are on the scale. It doesn't matter how good our opposition is. The bye is the big leveler for this Geelong side.
You'd think the old legs would benefit from a rest; but the bye is a mysterious entity that crushes our form…
… only it wasn't.
The cats looked good. Despite the 12.9 score line, Geelong managed twenty-nine shots, so some accuracy issues. But other than that, the Eagles seem to have found a connection between their groups.
It was built on good defensive pressure – and most importantly – good use of the foot; turning the ball over only fifty-six times for the game, to the Cats sixty-one.
There was controversy surrounding the free kick paid to Jeremy Cameron directly on the siren; and I would like to thank the West Coast Eagles for the opportunity they gave me.
With the subsequent admission that Geelong did in fact benefit from an incorrect call; I can now point to that insignificant mid-season game whenever someone accuses me of bias in the future… so here goes:
I, Josef Mack, one-eyed Geelong Cats fan, admit that a bad decision benefited my team.
GWS Giants 16.9 105 beaten by. Western Bulldogs 19.11 125
See what happens when you put the whistle away?
We were treated to a goal fest on Saturday night as one of football's best rivalries was allowed to go head to head at the Giants Oval.
It's a shame that there are more seagulls in the stadium than people; because it was an absolute belt!
The Doggies' third-quarter run was the difference in the end, but other than that, it was a good old-fashioned shootout.
To me, the key thing this game proves is that any coach who hands over a reserve man for the whole game, should have their Australian citizenship revoked (except Chris Scott of course).
All that space up front gives us fast running, one-on-one and back action.
The more I say!
Gold Coast Suns 18.8 116 def. Adelaide Crows 10.13 73
The Suns kicked out late in that game, outplaying a plucky Crows side.
But I want to focus the latter on healthier content; to balance my usually cynical tone.
Family in song ❤️💛 pic.twitter.com/MTEGKdQ1zO

— Gold Coast Suns (@GoldCoastSUNS) June 19, 2022
He is the grandfather of Alex Davies, who attended his first AFL match after flying in from Japan.
Apparently he wears his Suns products everywhere there.
Can you imagine how rare it would be to see a Gold Coast Suns fan in Japan?
It's like seeing someone in a Melbourne Storm jersey…in Melbourne.
You can read more about Josef in his substack located here: https://josefmack.substack.com/