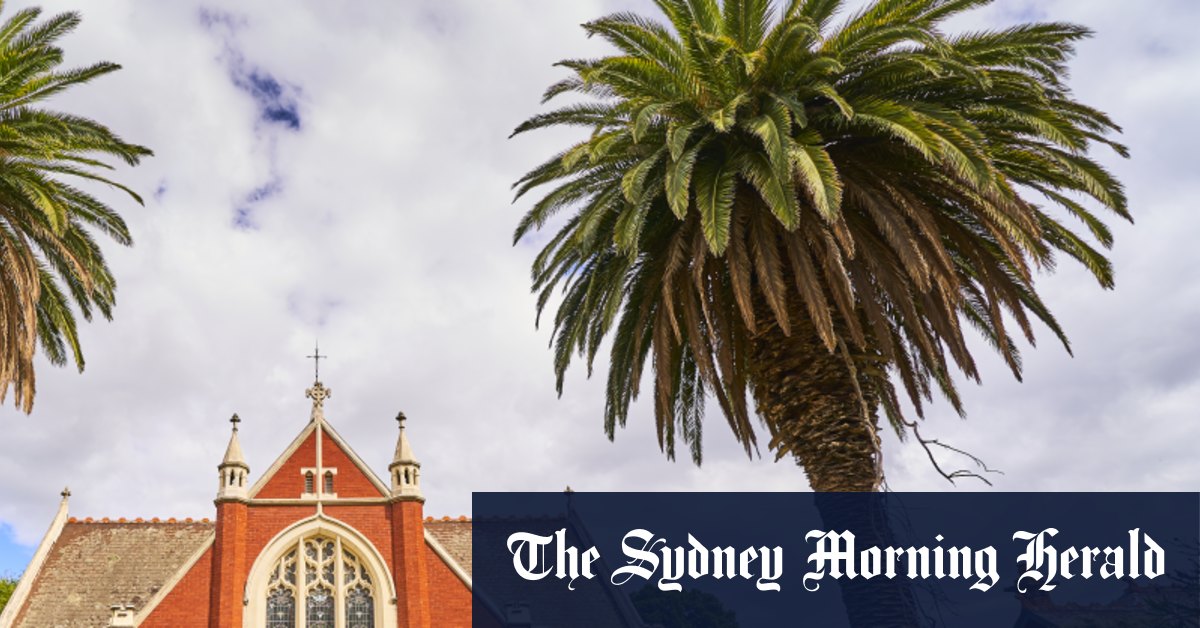 Noetic gets poetic on fresh start at Bayside development site
Agents are keeping schtum on details, but it is understood the historic Presbyterian church sold for more than the quoted $14million at the start of the campaign.
JLL agents Jesse Radisich, Nick Peden, Josh Rutman and MingXuan Li brokered the deal which drew 140 applications.
The church and its buildings are situated on a 6715 square meter lot with frontages on Power and Elgin Streets and Grove Road in the heart of the private school.
The West Hawthorn congregation merged with the East Kew and Korean Joong Ang churches and now worship at Highbury Grove near Kew Junction.
Church property director Peter Thomas said congregations "found they were ready for a common commitment around mission and property building".
The Uniting Church was born from the merger of Methodists, Presbyterians and the Congregational Union in 1977.
That's a lot of churches and church attendance patterns in Australia have rapidly declined.
Census data this week shows a 15% drop in the number of people who identify as Christians. Nearly 40% of people said they had no religion, while the number of Christians fell to 43.9% from 52.1% in 2016 and 61.1% in 2011.
The next for sale will be the old Presbyterian Church of Thornbury.
Gurner grows
Speaking of redeveloped churches, developer Gurner has secured a permit to redevelop the former St Matthews Church and Hall at 145-151 High Street in Prahran.
The historic 150-year-old Gothic church will be the first of Gurner's Club Maison projects, a scheme that hopes to marry expensive apartments with nightclubs. Effective soundproofing is hopefully central to the plan.
The $40 million project, offering 45 apartments, a rooftop bar and a restaurant on the ground floor, got the green light from Stonnington this month.
Records show the site, on the corner of Macquarie Street near Chapel Street, is owned by medical entrepreneur Brandon Carp, whose Unified Healthcare Group has offices around the corner.
Carp, who also acted as a consultant to buy a now-paying company Afterpay, paid $2.3 million for the site in 2005.
It's an interesting moment. Gurner boss Tim Gurner is selling the other Club Maison site in St Kilda, a property which is owned by a company called 99-105 Fitzroy Street by Gurner.
Yes, this is the address, near the Canterbury Road-Grey Street intersection which was most recently occupied by the Cushion Bar.
Gurner bought it for $2.25 million in 2019 and got a permit for a six-story building with two rooftop pools. It is expected to gross over $4 million.
"Since acquiring the site, we have acquired 15 more across Australia, many of which are mixed-use or regeneration neighborhoods with over 1,000 apartments," Gurner said.
Gurner decided to focus on the bigger projects.
JLL agents Nick Peden, Josh Rutman, Jesse Radisich and MingXuan Li are handling expressions of interest for the 488m² site.
Take care of your mansion
Three houses on Booran Road are up for rent after the training facilities at Caulfield Racecourse closed.
The houses at 30-34 Booran Road have been occupied by the racecourse's trainers and jockeys for several generations.
Training at Caulfield closed during the year to make way for a $570 million renovation of public space at the historic racecourse.
Two of the properties are gated Victorian homes and a third, the "Birdcage", is a 1970s seven-bedroom home with a full-size pool table.
All three properties are presented to residential or commercial tenants by Daniel Liberman of Axis Property.
The nine-bedroom Lord Lodge at No. 30 comes with a tower (unfortunately not accessible) and was built around 1890 for the famous trainer John Leek. The large Italianate manor sits on a large plot of 1500 m².
Next door, at No. 32, another Italian-style mansion, Tecoma, extends over 1700 m² and has ten bedrooms.
patience pays
The rezoning of the Johnston Street strip to Commercial 1 is bringing significant capital gains to the industrial owners of yesteryear.
Next on the chopping block is the Collingwood premises of power and data infrastructure company BMI International.
Records show the company owner paid $1.55 million for the properties at 166-168 Johnston Street in 2005, but are worth more than $9 million 15 years later.
The 803 m² property is made up of a heritage two-storey office building with a fitted kitchen and bathroom as well as another office next door and a warehouse.
CBRE's Nathan Mufale, Scott Hawthorne, David Minty, and JJ Heng sell them individually or in pairs.
"This pocket of Collingwood, between Gold and Hoddle streets, is perfectly positioned for redevelopment following rezoning to Commercial 1," Mufale said.
The most recent company to leave the northern suburbs is construction industry supplier Grimleys, which moved from nearby 121 Sackville Street to Fairfield.
New office and residential developments are profoundly altering the once working-class suburb – once home to the rag trade and non-profit offices. Now, health and beauty companies Aesop and Swisse are opening their new headquarters on the road.
Other recent deals in the area include 30-44 Sackville Street, Collingwood which fetched $17 million and 15-17 Easey Street which sold for $7 million.