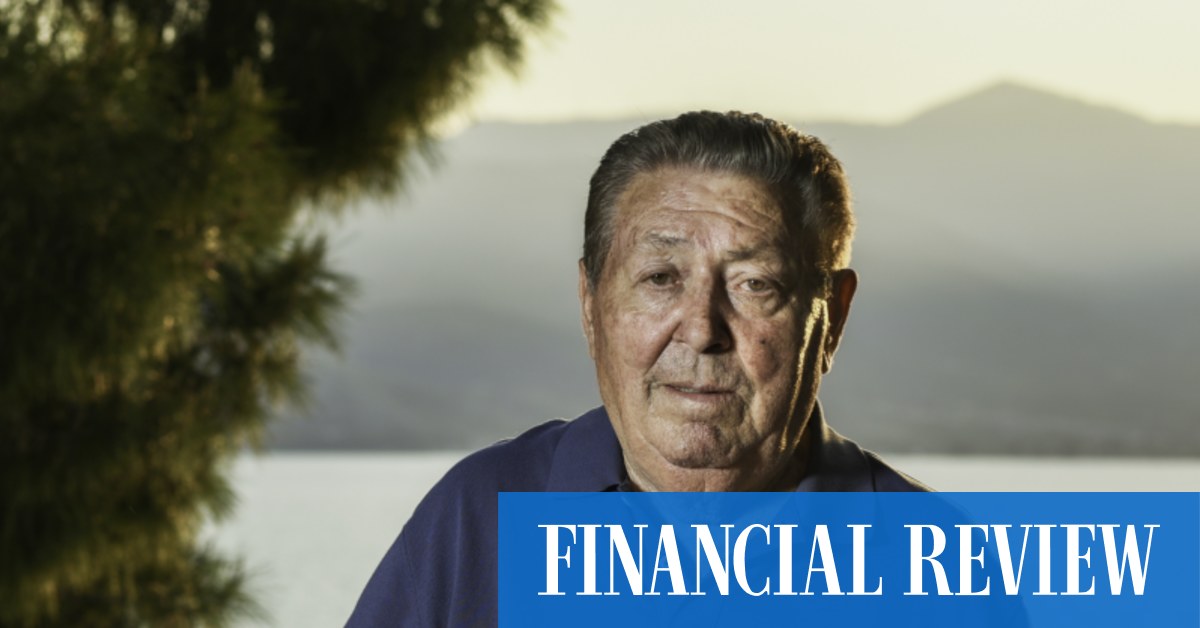 Nick Andrianakos goes from factory worker Pratt to compatriot Rich Lister
It's a far cry from Pikerni, a village about 160 kilometers west of Athens, where Andrianakos was raised on a farm that grew wheat and beans.
"A little bludger"
"I was born in 1943, but my parents didn't have time to [go into the nearest city Tripoli and] register until 1944. It was a very poor village," he says.
"Australians hear 'farm' and they think 10,000 acres – my family's farm was 10,000 square metres."
Leaving school after the third year, ostensibly to help his parents with their difficult existence, Andrianakos remembers being "a bit of a bludger" when he was a teenager.
Together with friends, he rode motorcycles to nearby villages to sell goods and get acquainted with their wives – "I was a beautiful boy!" – but the idyllic existence ended in 1964.
He was called up for two years of compulsory service in the Greek army, one of which as part of the first United Nations peacekeeping force, which was in Cyprus to suppress violence between Greeks and Turks. local.
Returning to Pikerni, he discovered that the village was almost empty. His two brothers were studying to become doctors and bankers, while most of his friends had moved to the United States, Canada or Australia, disappointed by a perceived lack of reward for hard work in Greece.
"I had to go there myself and see what I could accomplish," he says.
"When I left, my parents were crying, but there was no other choice."
Andrianakos still remembers the day he jumped from the Patris in Port Melbourne – January 23, 1967 – and was met by family members of the woman he had been agreed to marry, who was also from Pikerni.
"At first it had nothing to do with love, but we had been together for 50 years," he says of Anthoula, who raised their four children while working 16-hour days in a his first service station. She died four years ago.
Settled with a job at General Motors, Andrianakos remembers arriving on the first day in a suit – before being headed off to the assembly line.
Night shifts at the Menzies Hotel
Stints in leather and steel factories followed, supplemented by night shifts as a cleaner at the Menzies Hotel. Then, in 1971, the future Rich Lister crossed paths with establishing Visy's main box factory in Reservoir, not far from where Andrianakos had bought a house to become one of the region's first Greeks. .
"I could have 800 square meters with a vegetable garden up there, all the other Greeks in Fitzroy and Richmond only had 200 square meters," he says.
Andrianakos met Visy owner Richard Pratt on several occasions while driving a forklift for the company – "a real gentleman", he recalled – but that was not destined to last long.
"I was there for 10 months, but I was always looking for another job, for more money," he says.
He then supported his growing family by running a BP service station in Carlton, where he soon found he enjoyed improving his English by chatting to customers and selling them a grease and oil change.
"The number of car owners was still growing very quickly and I felt like it was good business for me," he says.
Inspired by his now professional brothers on a trip back to Greece in 1975, the following year he used his savings and a loan from a finance company, after the banks all turned him down, to buy a BP in trouble at Cobourg (including the all-important land below).
The brilliant entrepreneur quickly put the site to good use, after convincing a local taxi company to buy tires exclusively from him, but it took him another five years of hard work before he could save enough to buy another one.
"I was doing everything – checking tyres, fighting with suppliers. It was 16-hour days to support my family and move on," says Andrianakos.
Family affair
And it was a family affair. Son Theo, born in 1971 as the third eldest of four children, recalls pumping petrol on weekends from the age of seven alongside his older brother Paul, while his two sisters counted the receipts of the day.
Finally, in 1981, Andrianakos secured two more BP sites, one in Footscray and the other in Coburg, the deal sweetened by the fuel giant's eagerness at the time to get out of the mess of service stations by direct management.
"I was lucky there, I don't think I was that smart. But, over the years, you buy more and you get better," says Andrianakos.
Theo, long the most involved sibling in Milemaker, is now listed in Nick's living will as boss of Nikos Property Group (all the children sit on an advisory board) and intends to continue the family's fortunes.
Caltex (now Ampol) has been a business partner of the family since Andrianakos struck a handshake deal with it for fuel supplies in 1985, but Theo is realistic the gas station business will change as sales of electric cars will increase.
"Some of these sites may become retail businesses with a few charging stations, maybe some will end up being rezoned," says Theo. "The beauty of being long-term land investors is that we're ready for either scenario."
As for Nick, he says the fundamentals of his business haven't changed since he changed tires.
"I built Milemaker on my word and I respect people who stick to theirs," he says. "Tell me a lie, I can't accept it. Tell me the truth, I give you my heart.
The Financial Review Rich List is published in AFR Magazine this Friday.