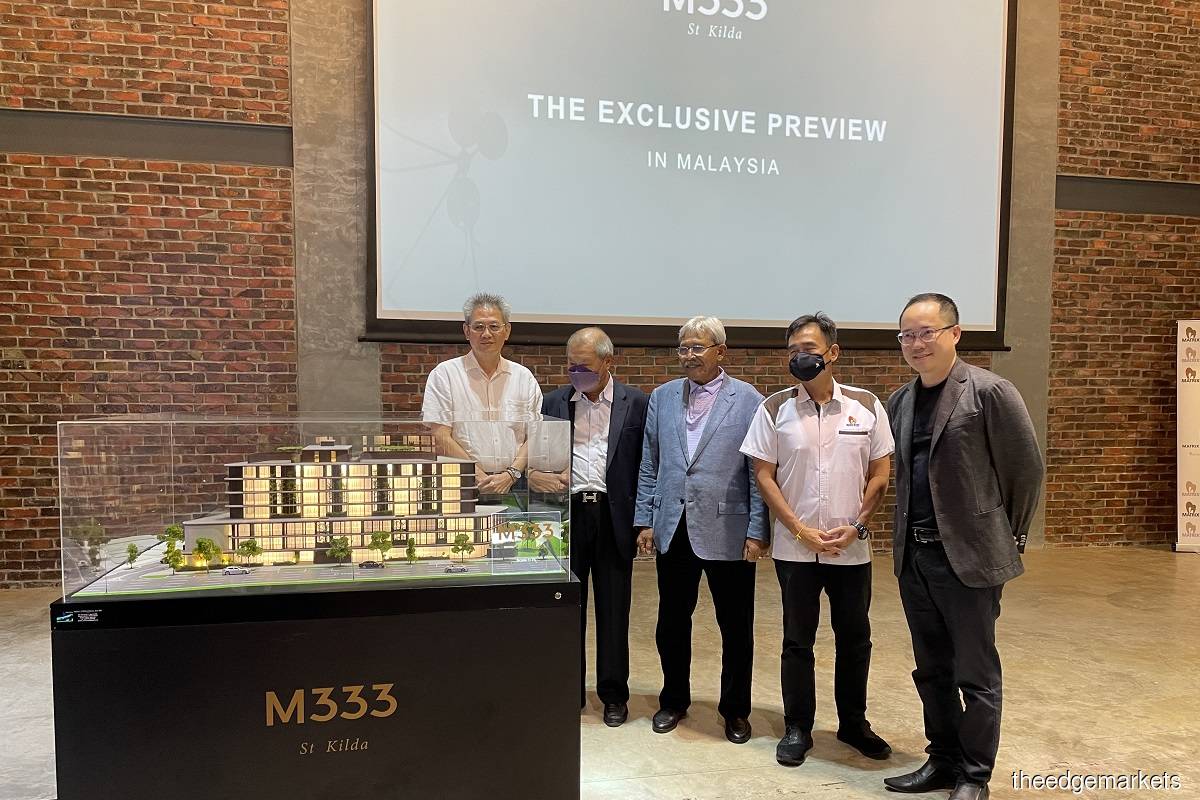 Matrix Concepts Unveils M333 St Kilda in Melbourne
PETALING JAYA (May 29): Matrix Concepts Holdings Bhd launched its latest Australian project called M333 St Kilda on Sunday.
"M333 St Kilda is our third project in Australia, following Mr. Carnegie and Mr. Greenvale which have been fully sold since their launch in 2016 and 2019 respectively. Due to the good response from our previous projects, we are confident that it will "There will be demand for M333 St Kilda. Construction work on the project will start in late 2022 and is expected to be completed in the fourth quarter of 2024," Matrix Concepts Chairman Datuk Mohamad Haslah Mohamad Amin said at the preview. exclusive to M333 St Kilda. .
Also present at the event were Matrix Concepts Group Founder and Executive Vice President Datuk Seri Lee Tian Hock, Group Managing Director Ho Kong Soon, Managing Director Leong Jee Van and Managing Director of Matrix Development (Australia) Pty Ltd Lee Jon Wee.
M333 St Kilda is located in the heart of Melbourne's St Kilda, a trendy Tribeca-style suburb well known for its beach and cultured yet bohemian lifestyle. The low-rise boutique building is set to become a modern residential landmark in Melbourne and has a gross development value of A$75 million (RM230 million). It is a 7 km drive from Melbourne's central business district and a 15-minute walk from St Kilda Beach. There is also a tram station right on its doorstep.
Set on a 0.63 acre freehold plot, M333 St Kilda is located on the corner of St Kilda Road and Blanche Street. The eight-storey building will include a total of 74 residential units and two commercial units on the ground floor. The retail spaces will house a 5,381 square foot mini grocery store and an 861 square foot specialty bakery café.
The units will be available in one, two or three bedroom layouts with layouts ranging from 684 to 2,106 square feet, and are priced at A$569,000 (RM1.75 million).
"There will also be two limited penthouse duplexes measuring 2,982 and 3,559 square feet priced at AU$3.29 million (RM10.3 million) and AU$3.59 million (RM11.2 million). ) respectively.All units will be allocated one or two parking spaces and Approximately 25-35% of units are for overseas buyers from Malaysia, Singapore, Hong Kong, China and Indonesia, while the rest will be marketed from local Australian buyers," said Jon Wee.
The design and concept of the project has been thought through extensively, as Matrix Concepts works with leading Australian architecture studio RotheLowman. This is where space, natural light and ventilation, and greenery are enhanced to promote the health and well-being of its future residents and inhabitants.
All units at M333 St Kilda will feature large sliding doors and louvered windows. Some of the units will come with a winter garden/outdoor terrace, where residents will have the option of converting the space into a study or leisure area. There will also be greenery around the exterior of the development.
According to the developer, M333 St Kilda is envisioned for a modern and balanced living environment, particularly where work-from-home trends have become increasingly common in the post-pandemic era. St Kilda, being a sought-after locality for those emigrating from the Asia-Pacific, is now covered by young professional immigrants from East Asia, making it the preferred suburb of 25-35 year olds.
The development will offer various spaces/common spaces, such as a double-volume co-working and co-living lounge on level one and a private dining room with a fully equipped kitchen on level five.
Other facilities include a gym, an outdoor dining area and a garden with BBQ. Maintenance costs, including sinking fund, start from AU$1,600 per year. Nearby amenities include St Kilda's Esplanade Market, The Avenue Hospital, Windsor Private Hospital, St Kilda Park Primary School, St Mary's College, St Kilda Botanic Garden, as well as Luna Park, Australia's oldest theme park.