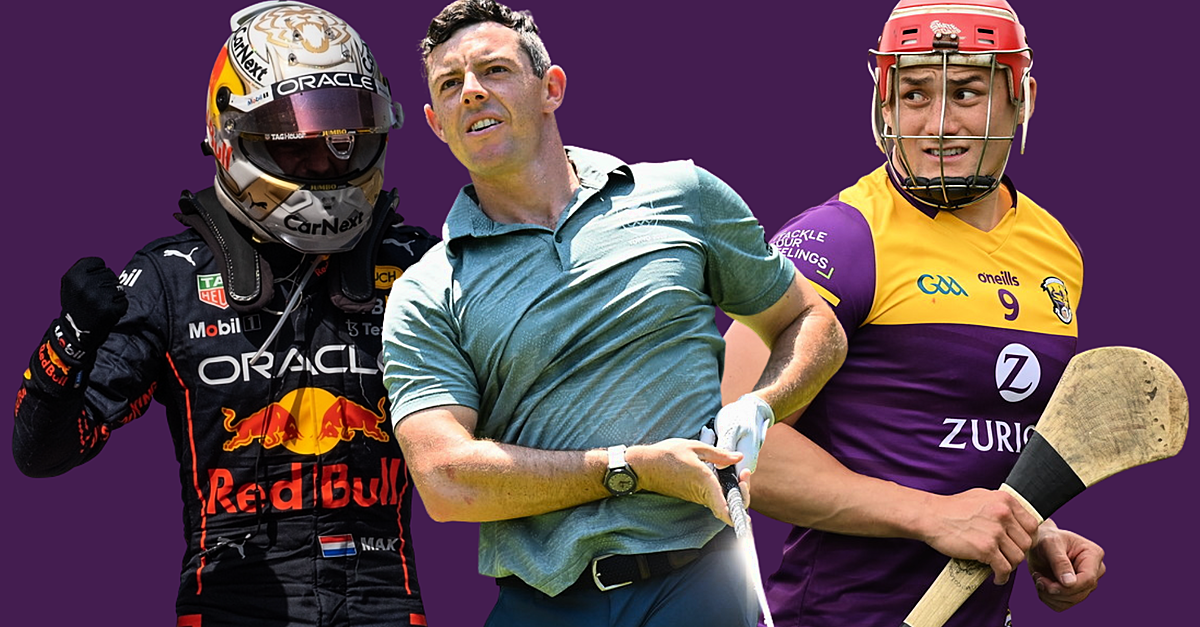 Live sport on TV this weekend: the ultimate guide to June 17-19
With the weather not looking good this weekend, we decided to find you all this weekend live sport which will be displayed on your TV. From the Canadian Grand Prix to the US Open, we've got you covered so you don't have to leave the couch.
Check out the full list of all this weekend's live sporting events at chronological order.
Friday sports live on TV Guide:
12 p.m.: Milwaukee Brewers @ New York Mets, MLB – BT Sport 1
1h45: Golden State @Boston Celtics, NBA Finals – Sky Sports Main Event
7am: Badminton Indonesia Open, BT Sport 3
8am: German Grand Prix Testing, MotoGP, BT Sport 2
10 a.m.: England v Netherlands 1st ODI, Cricket, Sky Sports Main Event
10:30 a.m.: St Kilda v Essendon, AFL, BT Sport 1
Read here: Australian TV airs embarrassing skit about Irish AFL player Zach Tuohy
10:55 a.m.: Storm vs. Broncos, NRL, Sky Sports Mix
11 a.m.: Billiards World Cup, Sky Sports Arena
12 p.m.: Tour of Slovenia, Cycling, Eurosport 1
1 p.m.: Round 2 of US Open Golf, Sky Sports Main Event
1 p.m.: Ladies European Tour Golf, Sky Sports Mix
1:30 p.m.: Royal Ascot Day 4, Horse Racing, Virgin One/Sky Sports Racing
2 p.m.: Tour of Belgium, Cycling, Eurosport 1
2:20 p.m.: India v South Africa 4th T20, Sky Sports Mix
2:30 p.m.: West Indies v Bangladesh 1st Test, Cricket, BT Sport 1
6 p.m.: Darts World Cup Day 2, Sky Sports Action
6:25 p.m.: Surrey v Middlesex, T20 Blast Cricket, Sky Sports Cricket
6:30 p.m.: Canadian F1 Grand Prix Test 1, Sky Sports F1
7 p.m.: Atlanta Braves @Chicago Cubs, MLB, BT Sport 2
7 p.m.: Oklahoma Sooners v Texas A&M Aggies, College World Series, BT Sport/ESPN
8 p.m.: Castres v Toulouse, Top 14 Rugby, Premier Sports 1
9:45 p.m.: Canadian F1 Grand Prix Practice 2, Sky Sports F1
Saturday Live Sport on TV Guide:
12:30 a.m.: Winnipeg Blue Bombers @Ottawa Redblacks, CFL, BT Sport 2
1h: WWE Friday Night Smackdown, BT Sport 1
7:30 a.m.: West Coast Eagles v Geelong Cats, AFL, BT Sport 1
8am: Blues v Crusaders, Super Rugby Final, Sky Sports Main Event
8am: German Grand Prix Testing, MotoGP, BT Sport 2
9:30 a.m.: Suncorp Netball Major semi-final, Sky Sports Action
10:15 a.m.: GWS Giants vs. Western Bulldogs, BT Sport 1
10:30 a.m.: Parramatta Eels v Sydney Roosters, NRL, Sky Sports Main Event
10:30 a.m.: China v USA, Women's Hockey, BT Sport 3
11 a.m.: Slalom World Cup, canoeing, Eurosport 1
11 a.m.: Billiards World Cup Day 5, Sky Sports Arena
11 a.m.: German Grand Prix Qualifying, MotoGP, BT Sport 2
12 p.m.: Darts World Cup Day 3, Sky Sports Action
12 p.m.: Ladies European Tour Golf, Sky Sports Golf
12 p.m.: Nitro Rallycross, Lydden Hill UK Race 1, FreeSports
1 p.m.: India v Argentina, Women's Hockey
1:25 p.m.: Last day of Royal Ascot, horse racing, Virgin One/Sky Sports Racing
1:45 p.m.: Galway v Cork, All Ireland CHS Quarter-Final, RTÉ 2
2 p.m.: England v Belgium, Women's Hockey, BT Sport/ESPN
2 p.m.: Leicester Tigers v Saracens, Premiership Rugby Final, BT Sport 1
2:15 p.m.: Worcestershire Rapids v Northants Steelbacks, T20 Blast Cricket, Sky Sports Cricket
3 p.m.: England v France, Women's Rugby League, Sky Sports Arena
3:45 p.m.: Clare v Wexford, All Ireland CHS Quarter-Final, RTÉ 2
Read here: Gearóid Hegarty has sympathy for banned Clare players
4 p.m.: Round 3 of US Open Golf, Sky Sports Main Event
4:30 p.m.: England v Belgium, Men's Hockey, BT Sport 2
5:30 p.m.: DHL Stormers v Vodacom Bulls, URC Final, Premier Sports 1
5:30 p.m.: England v All Stars, Rugby League, Sky Sports Arena
5:45 p.m.: Canadian F1 GP Practice 3, Sky Sports F1
6 p.m.: Cannons vs Archers, Premier League Lacrosse, BT Sport 1
8 p.m.: Montpellier v Bordeaux, Top 14 Rugby, Premier Sports 2
8:05 p.m.: Seattle vs Los Angeles FC, MLS, FreeSports
8:30 p.m.: Canadian F1 GP qualifying, Sky Sports main event
10 p.m.: LA Galaxy v Portland Timbers, MLS, Sky Sports Football
Sunday TV Live Sports Guide:
12 p.m.: Calvin Kattar vs. Josh Emmett, UFC Fight Night, BT Sport 1
12 p.m.: Goalies @Dodgers, MLB, BT Sport 2
12 p.m.: Ole Miss Rebels v Auburn Tigers, College World Series, BT Sport/ESPN
00:05: New York Red Bulls vs Toronto, MLS, FreeSports
1h: Tampa Bay @Colorado, NHL, Premier Sports 1
2h: Artur Beterbiev vs Joe Smith Jr, Boxing, Sky Sports Action
2h05: Dallas vs. Vancouver, MLS, FreeSports
6am: Gold Coast Suns v Adelaide Crows, AFL, BT Sport 1
7am: Bulldogs v Tigers, NRL, Sky Sports Arena
9:50 a.m.: England v Netherlands 2nd ODI, Cricket, Sky Sports Cricket
11 a.m.: Billiards World Cup Day 6, Sky Sports Arena
12:30 p.m.: German Grand Prix, MotoGP BT Sport 2
12 p.m.: Darts World Cup Day 4, Sky Sports Action
1:30 p.m.: Mayo vs Cavan, Women's Football Championship, TG4
Read here: "We do a lot of carpooling in Mayo. I owe a lot of people elevators! »
1:45 p.m.: Sligo v Cavan, Tailteann Cup semi-final, RTÉ 2
2 p.m.: US Open Golf Final, Sky Sports Golf
2:15 p.m.: Durham v Leicester, T20 Blast Cricket, Sky Sports Cricket
3 p.m.: England v France, Wheelchair Rugby League, Sky Sports Arena
3:30 p.m.: Meath v Armagh, Women's Football Championship, TG4
4 p.m.: Westmeath v Offaly, Tailteann Cup semi-final, RTÉ 2
4 p.m.: England v Belgium, Hockey, BT Sport 1
6 p.m.: Pool World Cup Final, Sky Sports Arena
6:30 p.m.: Yankees @Blue Jays, MLB, BT Sports 1
6:55 p.m.: Canadian F1 GP, Sky Sports F1
10 p.m.: FC Edmonton v Atletico Ottawa, Canadian Premier League, BT Sport 2
10:05 p.m.: New York FC vs. Colorado, MLS, FreeSports
SEE ALSO: Nathan Collins shows elite mentality in interview after masterclass in Ukraine