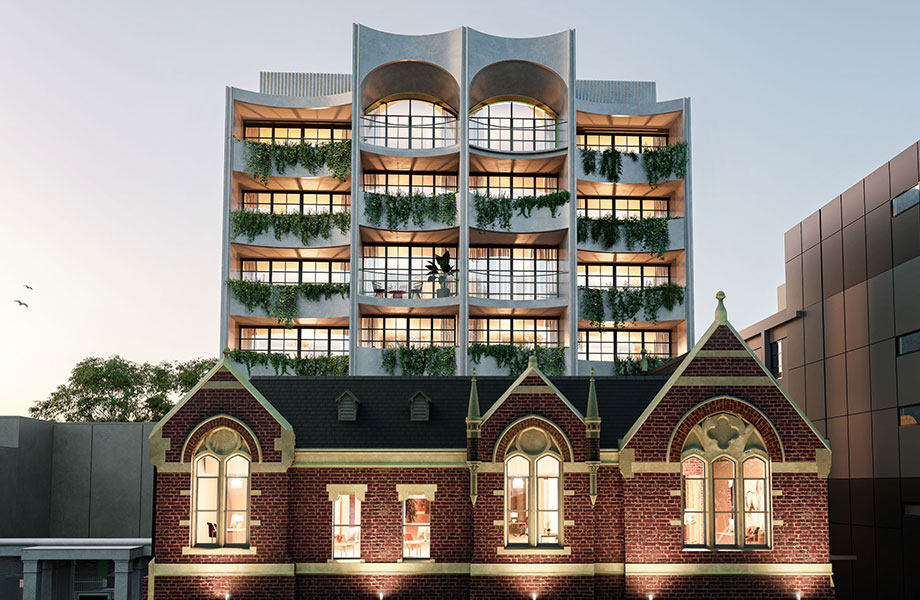 Hotel plans unveiled for Melbourne Gothic Church
Melbourne-based developer Tim Gurner has stepped up efforts in the hotel industry, planning plans for his second boutique hotel in central Melbourne.
In its latest purchase, the developer acquired a historic old bluestone church and former Sunday school hall site at 145-151 High Street in Prahran.
The sites, acquired off the market for an undisclosed amount, have variable heritage significance.
The combined site will be used by Gurner to deliver its second private residences and its concept club hotel, Club Maison.
The first, announced in January, will be located on the site of St Kilda's Cushion Lounge at 99 Fitzroy Street, alongside the developer's $ 550 million Saint Moritz project. Together, the projects will cost over $ 80 million to build.
Gurner said each hotel, designed by Warren and Mahoney, will have its own private rooftop club, infinity pool, outdoor kitchen and dining areas.
"We know there's a major boom coming and we want to make sure we're ready for it," Gurner said.
"Being so close to the vibrant Chapel Street area of ​​Prahran and amenities such as Fawkner Park, St Kilda Road and the CBD, this site is the perfect location for both a residential component and our new Club accommodation concept. House.
"It's no secret that I am drawn to heritage sites, especially those where we can incorporate heritage elements into our projects and bring these incredible buildings back to life."
Warren and Mahoney manager Nick Deans said the geometry of Gothic design had strongly influenced the company's design for residences, which take on a more contemporary feel with scalloped balconies and arched windows.
Pending approvals, on-site construction is expected to start this year.
When complete, the project, which is a joint venture partnership with the current landowner, will add $ 40 million to the developer's growing portfolio of clubs, hotels and short-term accommodation.
Earlier this year, Gurner said more than 15 new locations would be sought to develop its diverse pipeline of different asset classes while aiming to acquire between 15 and 20 new locations specifically for its Club House concept.
The developer's revised long-term strategy has come into full prominence in recent months after a difficult year for the Melbourne property sector which was plunged into a fourth month of imposed lockdown.
At the height of the lockdown, Gurner was in the process of completing two major projects: his Albert Place Residences in South Melbourne and Hawksburn Place Residences in Toorak.
Since then, the developer has revealed plans to pair 16 apartments with an 18-key boutique hotel as part of a $ 60 million project just north of Cairns in Port Douglas.
Gurner has also made inroads into the burgeoning rental construction asset class, partnering with finance firm Qualitas to launch a billion dollar rental construction development fund.
The fund plans to begin work this year on three Melbourne projects comprising more than 1,100 units, with the locations of other secure sites to be revealed at a later date.
Gurner also recently started construction of a mixed-use hotel and apartment project in Collingwood after securing a $ 55 million loan from ANZ Bank.