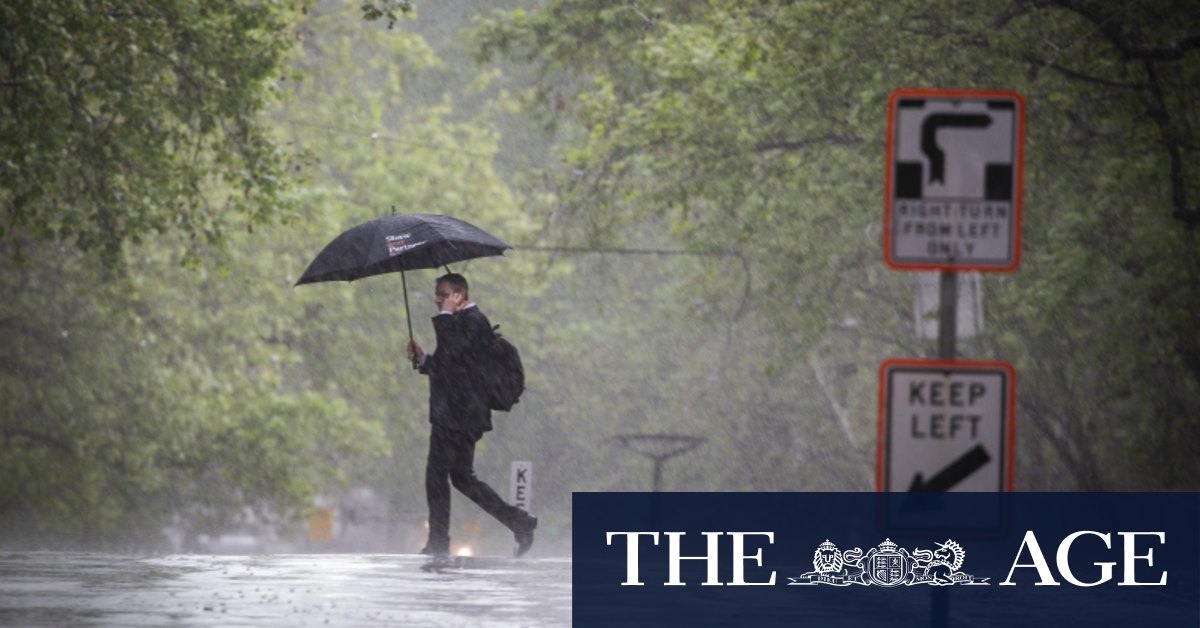 Floods, storms to force isolation of some residents, warns Daniel Andrews
A warning for Bogong Village and Falls Creek was issued on Tuesday due to an "active slow-moving landslide" on the Bogong High Plains Road above Bogong Village.
The road has been reduced to one lane and a reduced speed limit, but will be closed from midday Wednesday due to bad weather which is making the landslide worse, Emergency Victoria said.
The online warning tells those who need to access Falls Creek that they should do so before the closure and be prepared to stay until the road reopens.
Damaging winds of up to 100km/h are expected to batter Victoria on Thursday, from the Grampians in the west of the state to the Alpine peaks in the east.
Andrews said the state is ready, with a fleet of helicopters and generators prepared in case regional communities lose power. He said the government had also prepared two caches of supplies that could accommodate 50 people for up to five days after a possible major emergency.
Loading
Andrews also confirmed that Victorian authorities had spoken to the Australian Defense Force to prepare for the downpour, but no official request for support had been made.
"So they will not hesitate at all to seek support and help from anyone who can offer it to us," he said.
Victoria's Deputy Commissioner for Emergency Management, Chris Stephenson, told Victorians in areas at risk of flooding: 'You need to make sure you are prepared for up to 72 hours of potential isolation.
SES chief operating officer Tim Wiebusch warned that "the biggest risk for Melbourne is flash flooding" and said authorities were discouraging people from driving in the northern part of the state on Thursday as the weather was to intensify.
"We don't want to see cars with people on the roofs in York Street and Dudley Street and all those places that are known as hotspots around Melbourne," Wiebusch said.
Heavy rainfall in recent weeks has also put Victoria's dams under pressure, he said.
Wiebusch said Dartmouth Dam had recently spilled for the first time in 26 years, Lake Eildon was about to spill for the first time in 28 years, and Melbourne Water said Thomson Dam could spill this weekend for the first time in more than 30 years. .
"Victorians should be prepared for flooding which is likely to appear for another six to eight weeks, on and off, as we continue to see these rain events unfold," Wiebusch said.
Wildlife Victoria has an emergency action plan in place and will double its capacity to handle the expected number of increased calls this month.
Many animals are with their young, including fledgling birds and flying foxes carrying young, according to the service.
Members of the public can report injured, orphaned or trapped wildlife on 8400 7300 and a rescuer will be dispatched.
Despite the wild weather forecast, there were balmy, calm conditions and temperatures pushing towards 22 degrees in Melbourne on Tuesday.
In the North West, Buloke Shire Mayor Daryl Warren said gauges on the Avoca River would give 24 to 48 hours' notice if major flooding was likely in the flood-prone town of Charlton.
He said some roads were already closed in the area, but that was common in persistent wet weather.
In 2011, homes and businesses were inundated by floodwaters when the Avoca River ruptured its banks. On Tuesday, Warren said that while the ground was saturated, the river did not yet threaten the city.
"He stays where he should," he said.
Further north, Campaspe Shire councilor Paul Jarman said sandbags would be made available to residents of Rochester, which was also badly flooded in 2011, but were yet to be distributed.
The Morning Edition newsletter is our guide to the most important and interesting stories, analysis and ideas of the day. register here.