Design-driven Marriott AC Hotels has just opened its first Australian location in Melbourne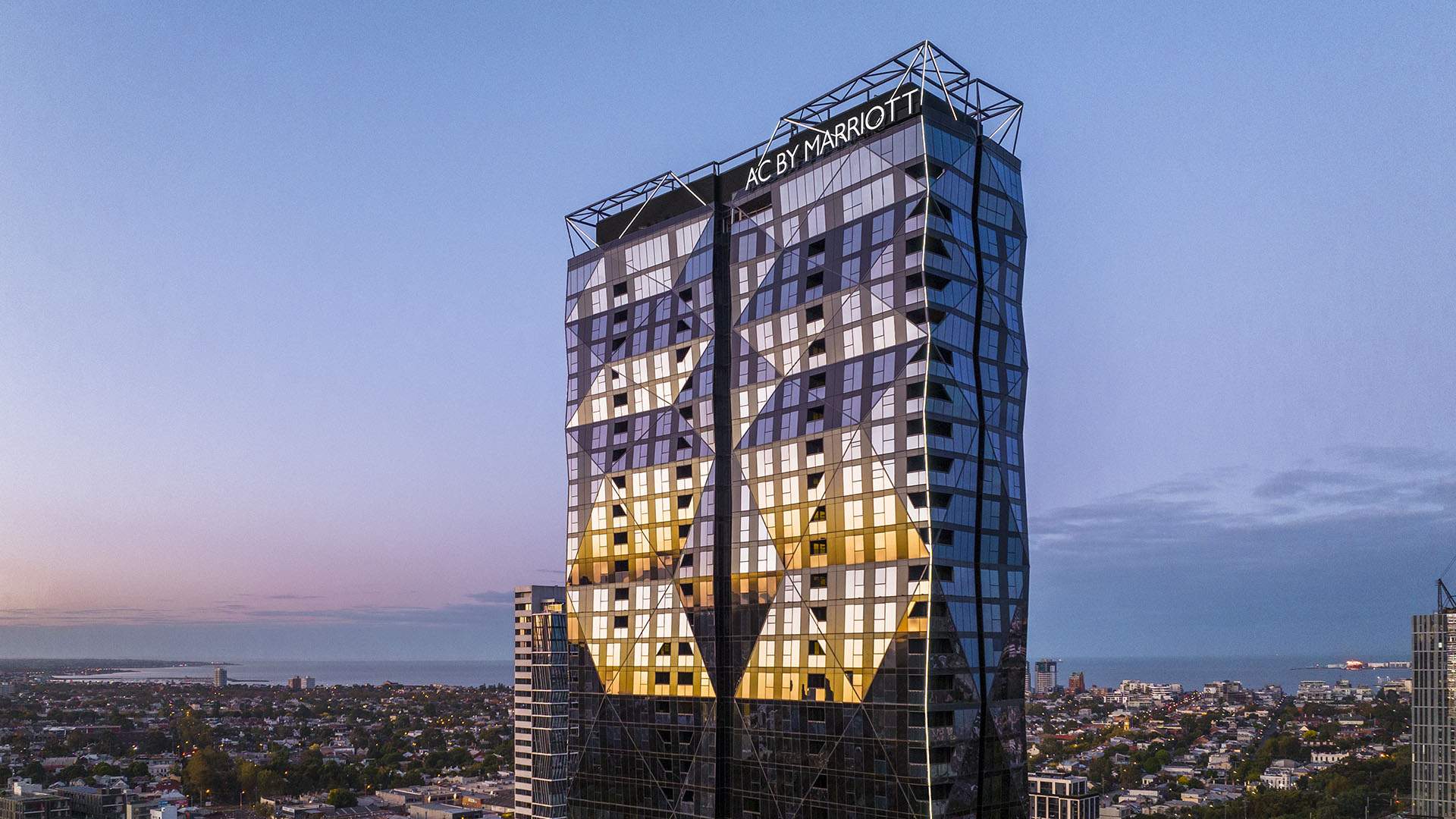 Design-driven Marriott AC Hotels has just opened its first Australian location in Melbourne
Whether you're on holiday, vacation, or on a business trip, there are plenty of reasons to choose one particular hotel over another – and the look of your temporary home away from home is more than up to par. . Do you want open, airy and minimalist spaces? Clean lines galore? The kind of modern elegance that catches your eye, but still looks functional? That's the mission of the design-driven Marriott brand AC Hotels, which has just made its way into Australia.
Despite launching in 1999 – first in Spain under hotelier Antonio Catalan, then partnering with Marriott in 2011 – the chain had yet to set up shop Down Under. Now its first sleek Australian location is open for business at Melbourne's Southbank. Featuring 205 rooms in a sculptural tower marked by its geometric glass facade (and, at night, its brilliant LED lights), the new spot joins the brand's more than 195 hotels in more than 27 countries and territories around the world. .
Rising against the skyline of Fishermans Bend, the imposing exterior is by DKO Architecture in collaboration with Capital Alliance – and the views, both of Melbourne's CBD and the Yarra, are a major highlight for guests.
As for where guests will sleep, accommodation options span both rooms and suites, all of which are decorated in neutral tones and boast a clean (but not restrained) design. Think greys, whites and natural hues, stone tiling, textured wooden floors, metallic details, open closets and built-in bathrooms. The inspiration: the brand's Spanish heritage, but also the industrial warehouse in South Melbourne.
Additionally, some rooms are pet-friendly – as long as your dog weighs less than 20 kilograms.
Part of the spot that has just been launched as well: the AC Lounge co-working space, which will also serve tapas in the evening; the Sorolla Restaurant, with an open kitchen to watch the chef while you eat; and Triana Bar, which soaks up the scenery. As for the drinks, there's also a gin and tonic experience – a specialty cocktail that's served in a custom glass by sculptural glass artist Adam Walmon, and which has been "scientifically developed to enhance the taste, l 'aroma and palate experience for the drinker' – which is available in all of the hotel's dining and bar areas.
To sip by the infinity pool — which spans the entire width of the building — head to Bar de Buceo. In addition to drinks, it offers outdoor dining.
Plus, the usual range of hotel amenities are also covered, including a 24-hour fitness center, as well as meeting and event space.
Find AC Hotel Melbourne Southbank at 201 Normanby Road, Southbank. For more information or to book, go to the hotel website.