All of Melbourne's new restaurant, cafe and bar openings have us excited in April 2022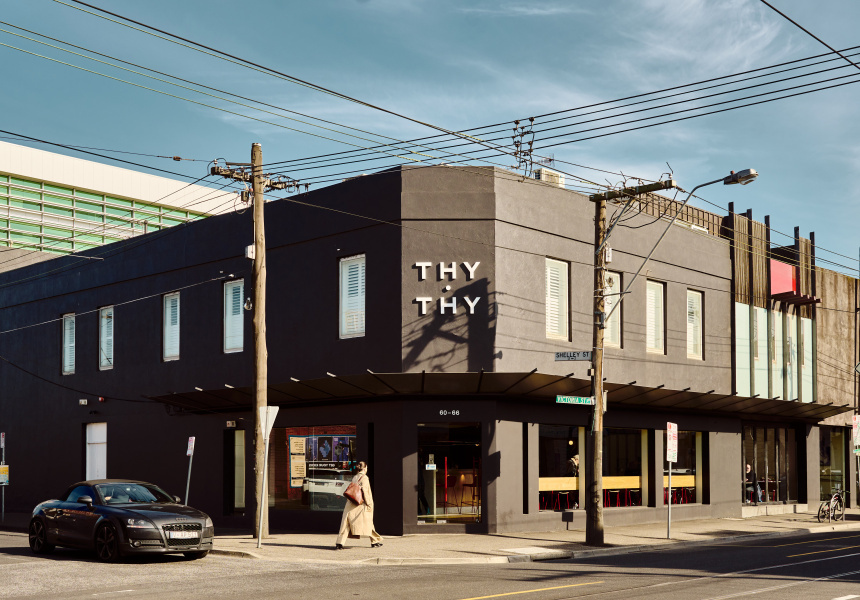 All of Melbourne's new restaurant, cafe and bar openings have us excited in April 2022
• First Look: The wildly popular Enter Via Laundry supper club transforms into an intimate 20-seat restaurant. The original pop-up at chef Helly Raichura's house could only seat a handful of diners. Now, after racking up thousands of waiting lists, Raichura serves up 20-course Bengali banquets made with native Australian produce at his first restaurant, tucked away down a Carlton lane.
• After a colossal $7 million expansion, Victoria's Four Pillars is re-establishing itself as a world-class destination for gin. Wrapped in a striking copper veil, it's a sight to behold. The original cellar door struggled to keep up with demand when it opened in 2015. Now its capacity has tripled – and it should be at the top of your hit list.
• Now Open: The new Italian disco restaurant Connie's could have been straight out of an old school movie. Per the Heartbreaker team, it's a "cinematic experience" – with a jukebox, disco balls and red vinyl everywhere. Head up the stairs for oversized pasta and grandma's pies, "tirami-sundaes" and cocktail pitchers.
• Come for a reinvented cacio e pepe, stay for the food 'scrap' revolution at Parcs, an energetic new wine bar from the Sunda and Aru team. Boundary-pushing chef Dennis Yong wants to challenge the way we think about food waste. He creates smart, thoughtful dishes with products that other restaurants might toss aside — or neglect altogether.
• First Look: Enjoy the glow of Bar Paradox, Supernormal's underground drinking lair. For just two weeks, the now closed pop-up was the place to be. Beyond the spiral staircase, it served deliciously spongy pork katsu rolls and build-your-own "baolinis," accompanied by cocktails expertly selected by Orlando Marzo.
• First Look: chic 30-seat oyster and chablis bar Pearl is hidden in a CBD arcade. In the same way that its sibling Pinchy's is all about champagne and lobster, Pearl champions another age-old pairing – with oyster tastings and 500 Burgundy wines to choose from.
• Benyue Kitchen, a new Chinese restaurant created by Lau's Family Kitchen alumni, puts Aberfeldie on the culinary map. Behind an unassuming brick facade, the welcoming, family-run restaurant serves up some of the now-closed St Kilda institution's favorite dishes – such as phenomenal scallop dumplings – as well as a host of Cantonese classics.
• First glance: Mortadeli's new charcuterie and grocery store looks like a modernized Mediterranean mini-wholesaler. Just opposite the OG Torquay Cafe, shop for sliced-to-order charcuterie (including plenty of bologna), charcuterie board essentials and Italian pantry staples. There is even a fishmonger on site.
• First Look: El Jannah's legendary charcoal chicken makes its Melbourne debut at a drive-in in Preston. After dark, the already busy store has a green neon halo that can be seen from blocks away. It's a beacon for the Lebanese chain, which has become cult since it opened in Sydney in 1998.
• Your big brekkie comes in the form of ramen at Kissaten, a Japanese-inspired cafe in leafy Alphington. It also offers katsu sandos, soft omurice and Hiroshima-style okonomiyaki, all from 8am.
• At Baguette Studios, a swanky new cafe in north Melbourne, pretzel croissants and beautifully buttered ham sangas are unexpected winners. Co-owner Aileen Seo fuses her French culinary training with her Korean heritage, so you'll also find riffs on dishes from her native land, like a beef bulgogi-inspired cheesesteak slathered in jalapeno mayonnaise.
• First Look: a historic church hall loses its religion to become a Trinity St Kilda pub and food-truck park. Grab big burgers and bites of mac'n'cheese in the shiny 1965 Airstream out front, then head inside for a beer in the plant-filled main hall, or a Shirazmataz cocktail in what looks like at your nanna's chic salon.
• Serving Cameroonian soul food from an orange shipping container, Vola Foods turns an empty Brunswick batch. It hasn't been an easy road here for Cameroonian chef Ashley Vola, but now she's helping Melbourne learn about lesser-known traditional dishes (including fried dumplings) from her homeland.
• Now open: Sip lobster-topped or truffle-infused ramen at Parco, a small new spot in Moonee Ponds. What started as an under-the-radar lockdown pop-up in Shujinko is now a ramen restaurant in its own right. It turns out that Di Stasio's executive chef, Federico Congiu, is just as proficient in Japanese cuisine as he is in Italian.
• One of Korea's greatest comfort foods, jajangmyeon, is the star of Paik's Noodle, now open in Melbourne. It's by famous South Korean chef Paik Jong-won. Thick, fluffy homemade noodles are topped with a decadent black bean sauce, along with Korean fried chicken and sweet and sour pork.
• It's a family affair at Thy Thy Counter & Canteen – the next generation of Richmond's beloved Vietnamese restaurant. Serving classics from southern Vietnam, as well as specialties from the north, the revived family restaurant brings together a retro-modern dining room and generations of experience.
• Now open at Carnegie: Coco's Patisserie, with seven-tier lamingtons by an ex-Vue Group pastry chef. Owner Katherine Marks quit her job at the company to pursue her passion for baking – and recruited Tivoli Road Bakery founder Michael James to help make it a reality.