AFL: Sydney Swans mourn the loss of stalwarts John Payne and Kenny Williams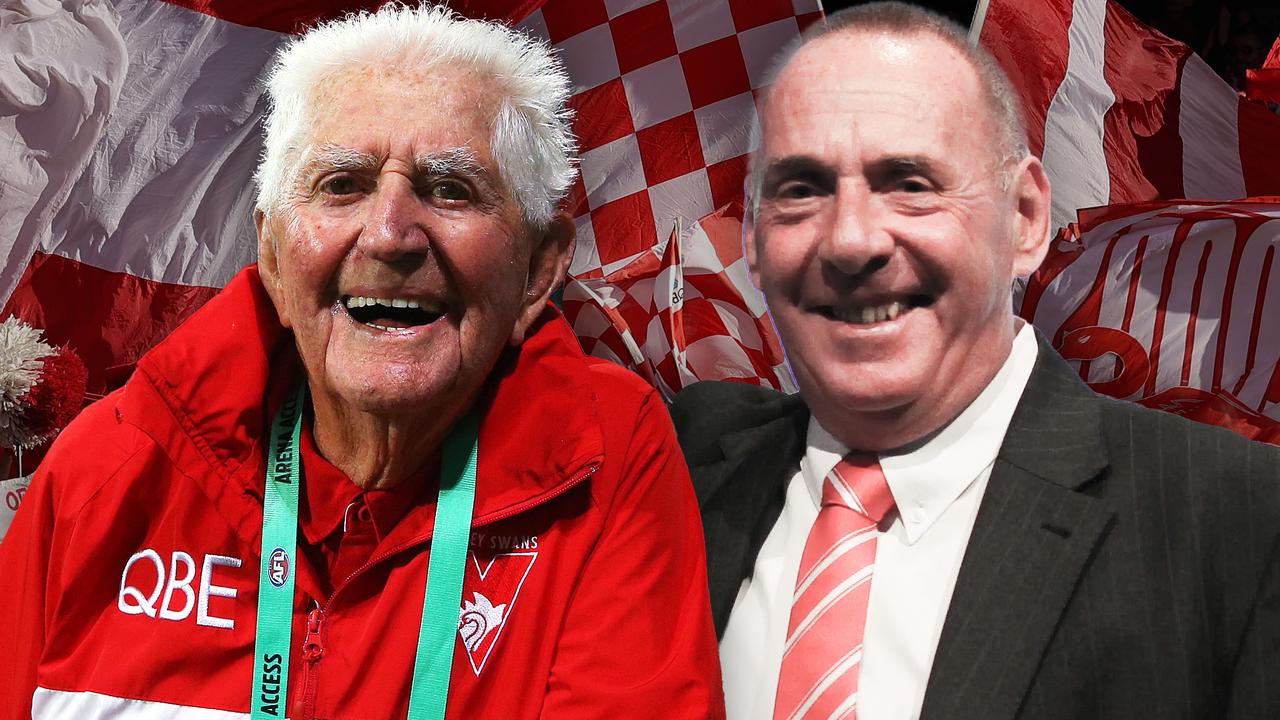 AFL: Sydney Swans mourn the loss of stalwarts John Payne and Kenny Williams
The Swans are in mourning after the deaths of club legends John Payne and Kenny Williams. ROB FORSAITH talks to John Longmire and Jude Bolton about Payne and Williams' legacy.
John Longmire compares them to "unofficial welfare managers". Jude Bolton's 21st birthday is one of countless examples that will be fondly remembered in a sad week for the Sydney Swans.
Longmire, Bolton and just about everyone who has played or worked for the Swans over the past 25 years is mourning the deaths of beloved props John Payne and Kenny Williams.
Payne and Williams' contribution to the club has been immense and selfless.
Fervent fans and fair-weather fans recognized Williams, who died at 93, as the red-and-white face of the Swans. He had been a regular at training sessions since the days of Ron Barassi, providing players with water and then acting as the team song maestro with flying colors after being appointed by Rodney Eade.
Payne lacked the profile of Williams, but the unobtrusive force of nature left an indelible mark on the club as a team leader.
"He did absolutely everything," Longmire says.
"If anyone needed anything, they asked Payney and they got it done.
"He was a confidant. A wonderful person to be around. He didn't miss a game. As a coach, he made sure you had everything you needed.
"From a player and staff perspective, he was one of those guys who was practically a full-time employee but wasn't.
"He handled the swap, arranged the flights, made sure the players were on the bus. He was going on a trip abroad with players in his time. Just an incredibly important person for this football club.
"It's been a really sad week. Payney and Kenny are two absolute stalwarts at the foot club, both of whom have been a part of the fabric of the Swans for a long time.
Williams and his wife Yvonne also wrapped their arms around the players.
Bolton, drafted with the No. 8 pick in the 1998 draft, is among the Swans' interstate recruits who were uprooted in Australia's most populous and expensive city, then became superstars and called it home .
The 42-year-old fondly recalls celebrating his 21st birthday at the Williams home.
"It was just one of those things, my 21st went down midweek or something," Bolton says.
"Kenny and Yvonne invited me and some boys, they put the cake. They did just that, they always wanted to make sure we had family around us.
"For any guys that moved interstate and needed a home cooked meal or whatever, they would be there. They opened their home, it was truly a home away from home.
"We spent so much time there. He was like an extra member of the family.
"It's a sad, sad week for the club. There's an outpouring of love and support for Kenny and John, it's been a tough few days.
Craig Holden was appointed as the Swans' first player welfare manager in 1996, while Dennis Carroll's work in this area is also legendary in making Sydney a destination club.
But Longmire notes that the "unofficial social" support offered by Payne and Williams was undeniably important.
"As a football club, one of our strengths is having so many players from state to state, but that requires a level of care," Longmire told CODE.
"They fostered that environment. They were so critical to a generation of successful gamers.
Chaperone was one of many hats worn by Payne, who worked full-time in commercial real estate.
Payne played in the SANFL Colts before moving to Sydney. As the Swans' financial difficulties worsened, he founded a small coterie group in 1994.
"I got a few of my friends together, we put in $100 each, and once a month we would take Ron Barassi to a No-Names restaurant," the club's life member once said.
Former Swans high performance manager David Misson said in a tribute on the club's website that Payne "didn't suffer from fools". A wrong turn on the team bus pushed its buttons like few other missteps.
"We got to a stage where we suggested John get his bus license," laughs Longmire.
Few have known the Swans' 72-year drought as Premier like Williams, who saw South Melbourne win the VFL Grand Final in 1933 as a four-year-old alongside his grandmother.
Williams worked as a stable hand when she was 12 years old. He moved to Sydney in 1949, and the club he loved followed suit in 1982.
Williams was the embodiment of fan passion.
Tony Lockett, then St Kilda striker visiting SCG, went against Williams and tried to chop his head off with a mighty torp from the goal square in 1994.
"Looking back, it was silly to kick Kenny the ball because if he happened to kick him…" Lockett told News Corp in 2017.
"I got to know Kenny well. A more passionate supporter than you could find. I'm glad the ball never touched him.
Bolton watched the drama unfold on television.
"I still remember Plugger kicking him low. He would duck under the side of the fence and then give it back to him," Bolton says.
"Plugger is coming to the Swans. He encouraged her and loved her. »
Bolton delivered Williams his 90th birthday cake during a celebration during Swans training. The pair shared many meals and chats, and a particular fondness for the 2012 grand finale.
"Everyone was waiting (for him to lead the song in theaters). It was like 'where's Kenny?'. I think he loved the drama of it all," Bolton says.
"For him to be the last person in the circle and then just roar and tear is a memory I will always cherish."