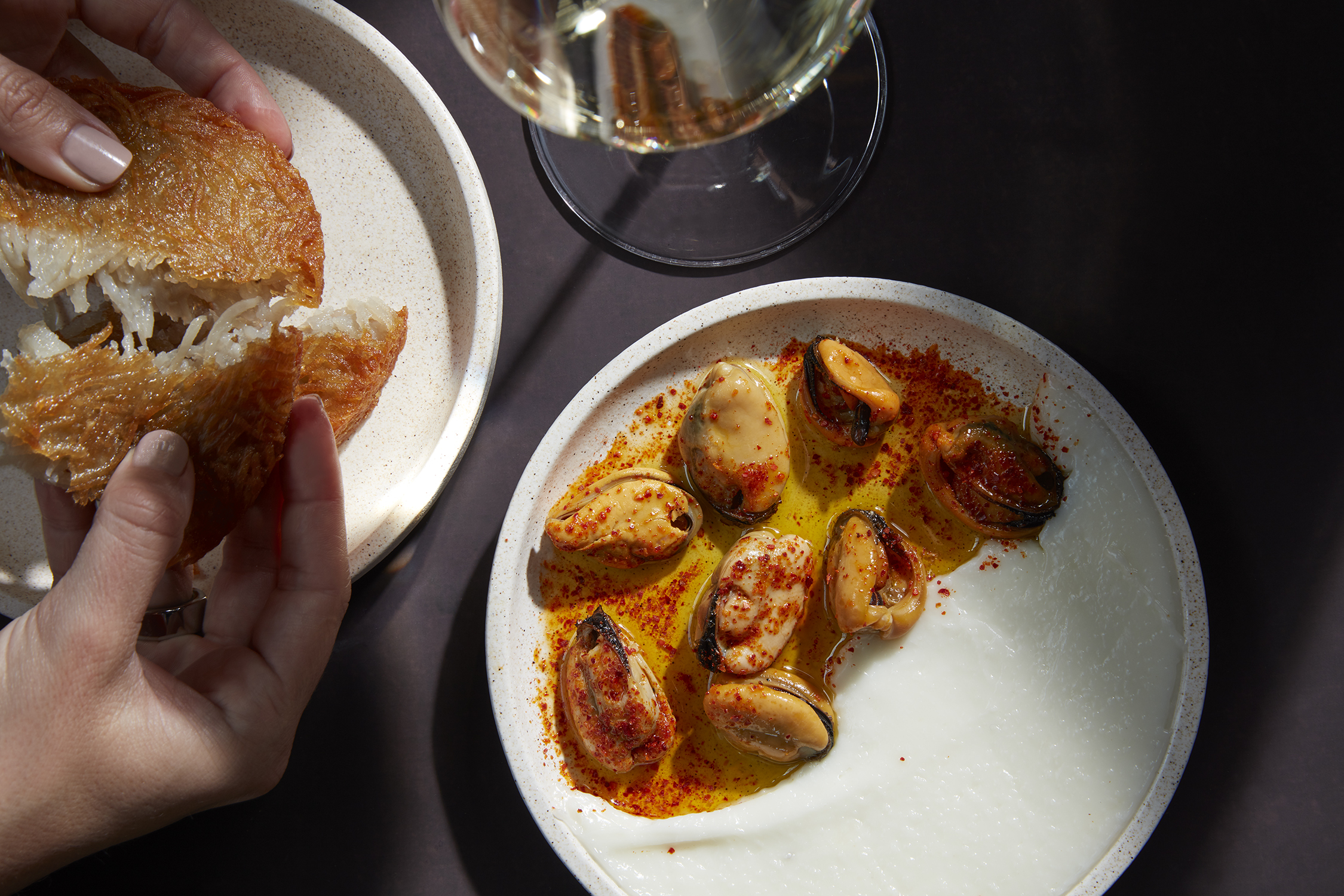 Sydney's Nomad lands in Melbourne on November 15
Hotels haven't traditionally been synonymous with places to eat in Melbourne, but that could change. Windsor Hotel Group's Sunda and Aru restaurants have revolutionized contemporary Southeast Asian fine dining, and high-end dessert house Om Nom calls Adelphi home. Joining Om Nom in the ground floor space once occupied by Ezard is Sydney Nomad's first Mediterranean restaurant outpost in Melbourne, with a kitchen helmed by former Ezard chef Brendan Katich.
An open kitchen is a must these days, so it's at Nomad that you can witness the hands-on work of lively chefs. The brown leather banquettes and banquettes are lit by wall sconces, making it dark and moody enough to feel like you're dining somewhere exclusive, but bright enough that you don't need a headlamp to read your menu. Industrial ceiling vents complete the warehouse aesthetic.
Nomad's sparsely annotated cocktail list – the vodka drink, the gin drink, the rum drink, the whiskey drink – sounds like something out of English rock band Chumbawamba's Tubthumping, which isn't to say that 'they should not be taken seriously. A mainstay of the Sydney menu, the gimlet martini drink is garnished with a splash of chive oil in place of an olive, and while the word 'refreshing' is overused when it comes to cocktails, the gin drink with its mint, basil and pineapple is an example of a cool summer drink.
Go for the $95 set menu or go a la carte if you want to choose which iterations of Victoria's fresh produce you sample. The aging charcuterie in the shelf that flanks the rear of the 100-seat dining room includes the unusual duck bologna – straight out of Nomad's in-house charcuterie facility – which is light and springy with a flavor profile peppered with allspice, cloves and fennel.
Served fresh from the oven, Nomad's center dish – the wood-fired stretched flatbread with homemade za'atar – is spongy and pleasantly blistered in the corners, with a nice crispy ASMR when you slice it. There's a slight tangy aftertaste from the sumac in the za'atar, and the sesame seeds sprinkled on top give the bread a welcome nuttiness.
Save some flatbread for the toum that accompanies your smoked mussels and hash browns. Wine bars like Faye and Bar Liberty have paired the delicacy of bivalves with salt-and-vinegar potato crisps, but Nomad takes things a step further by serving a spherical disc of grated tuber, more reminiscent of a potato rösti. earth, with its cold mussels. It's a dish with bold flavors, between the yoghurt sauce punched with garlic and the fruity heat of the Espelette pepper that sprinkles the mussels.
A respite from Nomad's otherwise rich and heavy menu, the raw trevally sprinkled with dollops of avocado, lime spheres, garlic croissants and thinly sliced ​​chili resembles a nori taco when served on the crackers with coriander that accompany it.
With a sense of drama, a hot skillet with Melbourne's signature Nomad dish of home-cooked jersey milk ricotta is accompanied by Ortiz anchovies intertwined with long strips of wood-grilled peppers. Ricotta's consistency is egg-like, chewy and crumbly, and it's a perfect vessel for the salty taste of anchovies and sweet peppers. There is an interesting interplay in temperatures between the cold toppings and the piping hot ricotta.
It's hard to incorporate anything else after that, but we persevere. Personifying restaurants' growing affinity for offal, wagyu tongue from the finest provenance – David Blackmore – is folded into mini wrappers and threaded onto a metal skewer. The tender tongue has a nice smoky char, but the date caramel vinaigrette is too sweet to outweigh its richness, resulting in a rather overwhelming dish.
If you're looking for a sweet and savory dish, and Nomad regularly bridges the gap between the two, you can't do better than the shallot tarte tatin slathered in sherry caramel framed in puff pastry. Cooked upside down then flipped to serve, the shimmering caramelized shallots are syrupy and plump, almost meat-like in their texture, and with a little goat curd accompanying them, they're not too cloying. The simple but perfectly executed salad of fennel and mint sprinkled with shanklish Lebanese yogurt cheese balls is a must-have fresh pairing.
If we had to have one complaint, it's that the dishes arrive way too close together – there's barely a five-minute break between the starters and the main course, but whether that's due to logistical issues that reminiscent of our time, or to a fast food label is unclear.
Joining luminaries from Flinders Lane Supernormal, Chin Chin, Cumulus and Coda, Nomad has settled in well if the post-Christmas crowd is anything to go by. The gourmet stereotype of small morsels of food that don't touch the sides of your stomach couldn't be less true at Nomad – don't eat anything for hours before if you want to expect the best of what they offer.