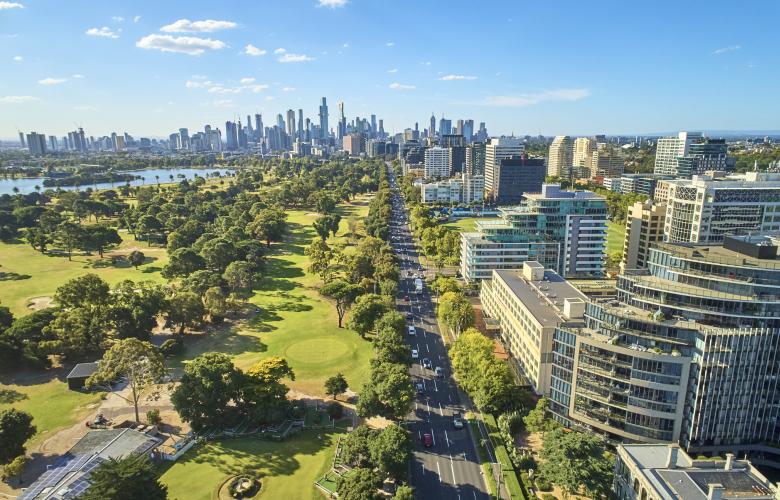 St Kilda Road precinct 'great site' for sale – JLL
One of the largest and last remaining development sites within the precincts of St Kilda Road is being offered for sale in a move that is expected to attract overseas interest and the attention of local developers most important in the country.
Totaling 6,966m² on a triple development, 50-52 Queens Road, Melbourne is located next to Lake Albert Park and the golf course and central to Fawkner Park, Alfred Hospital and Melbourne's main private schools.
The double-fronted site is currently a five-level, 203-room hotel with associated multi-level parking and is known as Bayview on the Park, which halted operations at the onset of the COVID-19 pandemic. Its owners, Bayview International Hotels & Resorts, operate another hotel along the boulevard as well as 10 other hotels in Australia, Malaysia and Singapore.
Bayview International Hotels & Resorts Regional Head of Projects and Product Development, Derek Yan, said, "Following a number of out-of-market approaches from developers, and with a strategic direction from the group to continue to reinvesting in our global hotel offerings, now is the perfect time to go to market with this leading site."
The sellers have exclusively appointed international agency JLL and its team of Josh Rutman, Peter Harper, Piers Jalland and Nick Macfie to manage the transaction.
'We have managed some very significant land sales in recent years along St Kilda Road and Queens Road, but this is the third largest wholly owned land property in the whole district, and we have already seen the interest from some of the industry's top promoters who understand the rarity of such an opportunity," said JLL Senior Manager Josh Rutman.
"While the prestige of the precinct is traditionally associated with St Kilda Road Boulevard, it is in fact Queens Road which benefits from the unobstructed sight lines over Albert Park towards Port Philip Bay and Melbourne CBD. Not surprisingly, sites along this thoroughfare were highly sought after when they became available.
"Queens Road has a very good reputation for providing high quality residential, commercial and retirement living products, and due to the scarcity of these offerings, adoption by various end users has always been strong," Mr. Rutman said.
"This divestment continues a trend we are seeing across Australia, and particularly in Melbourne, where hotels in prime locations that are approaching the end of their asset life cycle are worth far more as uses. alternatives. CBUS and Gurner's respective acquisitions of Mercure Spring Street and Novotel St Kilda for high-end residential redevelopment are two prime examples of this," said Peter Harper, Managing Director and Head of Australasia Investment Sales, JLL Hotels & Hospitality Group.
"In the current environment, we are seeing more and more hotel owners come to us to better understand their options, as in many cases alternative uses can be incredibly lucrative and rewarding their initial decision to invest in assets with strong underlying fundamentals. We are currently discussing with landlords not only redevelopment but also adaptive reuse for BTRs, residences and student accommodation," he added.
The high-end residential market has shown great resilience during the pandemic and is poised to emerge relatively unscathed due to strong underlying demand, experts say.
This also follows the recent announcement of a record $21 million penthouse buyer for Peter Devitt's neighboring development at 409 St Kilda Road.
"The St Kilda Road area is one of Australia's most successful high-end residential markets and with such large and flexible land ownership, there are several different strategies a buyer can use to take full advantage of the strength of this location," Rutman said.
"It's no wonder developers have targeted this property – its three distinct housing estates, prominent 300-foot double frontages and stunning uninterrupted views across Lake Albert Park and Port Phillip Bay to the city are highlights. Incredible development fundamentals for a major project in any market cycle," Mr. Rutman concluded.
50-52, Queens Road, Melbourne will be marketed by International Expressions Of Interest from early March.
For more information or contact agents Josh Rutman, Peter Harper, Piers Jalland and Nick Macfie via the contact form below.
To see the list and for more information, click here.
Similar to this:
Eureka 89 and Level 88 Eureka Skydeck one of the highest observation decks in the southern hemisphere for sale JLL
The former Blackman Hotel ready for a new lease of life JLL
Australian Greenland's Primus Hotel Sold to Pro-Invest Group – JLL