Design, performance and art-focused events not to be missed at Southbank this spring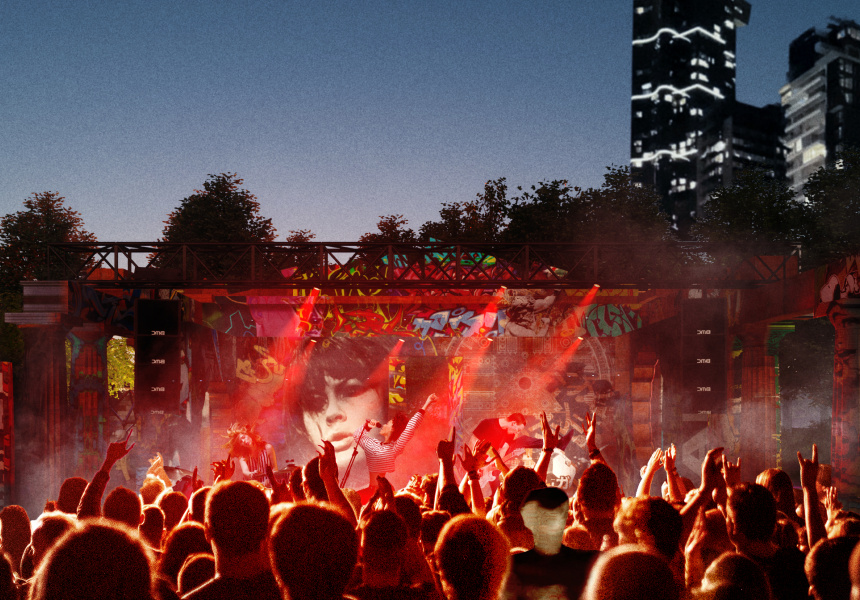 Design, performance and art-focused events not to be missed at Southbank this spring
You never get bored at Southbank. Not with its waterfront location, slew of noteworthy bars and restaurants, and range of creative performances and shows – all a jumping hop from downtown.
So it's hard to narrow down the must-see events at Southbank this spring, but here are a few picks to get you started.
Boom Temple
A modern version of the ancient Parthenon arrives in the NGV garden. From November 16, Temple of Boom will see a recreation of the colossal Greek temple splashed with colorful large-scale painted works by local artists in a joint project by Adam Newman and Kelvin Tsang of Melbourne's NWMN Architecture. It is the winning design of the annual NGV Architectural Commission – a competition to create a temporary, site-specific structure for the gallery's Grollo Equiset garden. Temple of Boom will be both a meeting place and an outdoor venue for a range of upcoming NGV performances and live music shows throughout the spring and summer. Free entry. See more information.
Girls Boys
Girls Boys is a new production by Tony Award-winning British playwright Dennis Kelly, presented by the Melbourne Theater Company. From October 21 to November 26, it follows a seemingly normal love story that unfolds, taking a turn into raw and shocking territory. Helpmann Kate Champion Award Winner (Never hurt me) leads the one-woman show performed by Nikki Shiels (Dorian Gray's photo), taking the audience on a journey of laughter to a heavy ending.
See more information and book tickets.
The Queensbridge Experience Studio
Put the Experience Studio on your to-do list, whether you're looking for a new home or not. It's part of developers Time & Place's Queensbridge Building, due for completion in 2025. You can stroll through the apartment-like showroom and check out Flack Studio's award-winning interior design, or get a taste of the future building dining options with a signature Japanese-inspired cocktail by The ugly Duckling and tracks from Moonfishh's on-site izakaya pop-up. Along with its central location, the building will also feature a very long list of amenities for residents and locals who live in the area, from co-working spaces, a podcast studio and kitchen pantry, to an office concierge, a 25-meter swimming lane and a boxing ring.
And if you're looking for an apartment, there's a custom lab tool that lets customers select an apartment layout and the desired materials and tones for each room, projected onto a large screen. So you can forget about the usual two-option color combinations, light or dark, and choose to fully customize the apartment to your liking. You can visit The Experience Studio on Level 1, 111 Queens Bridge Street, Southbank every Saturday from 12pm to 3pm.
See more information.
Electronic Piknic
For its ninth season in Melbourne, Piknic Electronik promises an impressive line-up over several weekends, from October 30 to April 2. What was once a week-long event now takes place once a month from 2-10 p.m. Most performances will take place on the northern edge of Southbank at the Sidney Myer Music Bowl (with New Years Day at The Timber Yard and 21st January at St Kilda's Catani Gardens). Catch artists like Eli & Fur and 16BL, techno pioneers Jeremy Olander and John Digweed, and local talent like Taglo, Whitefoxx and Snaxx & Tinika, to name a few.
Buy tickets and see more information.
sun super girl
Melbourne Theater Company sun super girl is the story of legendary Australian tennis player Wiradjuri Evonne Goolagong Cawley, played by Ella Ferris. Presented at the Southbank Theater from November 9 to December 14, the play is written and directed by Andrea James (Obstinate) and depicts Cawley's physical and emotional journey – from hitting a ball against a tin wall with a makeshift bat to becoming a household name and world number one in tennis at just 19 years old.
The historic work has been shortlisted for the 2021 Victorian Premier's Literary Award for Drama and weaves together themes of racism, connection to country and the ability to overcome adversity. The theater is designed to make the audience feel like they are in the stands of Wimbledon – the stage is a centrally positioned tennis court with tiered rows of seats on both sides.

Buy tickets and see more information.