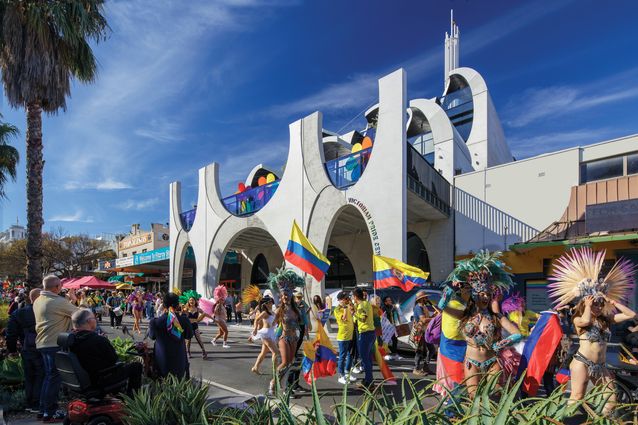 Aspiration for Queer Space: Victorian Pride Center
May 24 2016, Victorian Premier Daniel Andrews stood in front of state parliament to issue a historic apology for a law that made same-sex acts punishable by a maximum prison sentence of 15 years until 1980. He noted, "It is the primary responsibility of a government to keep people safe. But the government failed to ensure the safety of LGBTI people. It was a landmark year for lesbian, gay, bisexual, transgender, intersex and queer (LGBTIQ+) rights in Victoria. Along with an apology, pledging to continue the Safe Schools program and granting adoption rights to same-sex couples, the Victorian government has committed $15 million to build Australia's first Pride Centre, a symbol of freedom of expression and diversity of LGBTIQ+ Communities.1
A two-stage competition was held in 2017 to create this historic project in Melbourne's seaside suburb of St Kilda in the town of Port Phillip. Brearley Architects and Urbanists (BAU) and Grant Amon Architects (GAA) won the commission for their design which, as competition jury chair Dimity Reed said, "promises to give a building a memorable and exuberant". As the specter of Australia's marriage law postal inquiry loomed over the contest throughout 2017, an "exuberant" building to uphold the rights and freedoms of LGBTIQ+ communities was more urgent than ever.
Completed in 2021, the Victorian Pride Center houses – within its 6,200 square meters – a symbolic and safe space for members of the LGBTIQ+ communities. It achieves this by providing rentals to a range of civic organizations2 alongside co-working, commercial and cultural spaces. In shaping this rainbow coalition, BAU and GAA avoid tropes of LGBTIQ+ representation. A game of subtraction unabashedly drives their architectural approach, with extruded ellipses, or tubes, perforated through the building's maximum volume on an axis through the 58 meter deep site. (The positioning of the precast concrete columns, arches and blade walls that mark the mined tubes is regulated by the practical force of the parking grid below.) Echoing the ornamental arches marking the lavish hotels and landscapes of pleasure of St Kilda – including Luna Park, Catani Arch and the Esplanade Vaults – the ellipses are a sign that the architects know this naughty neighborhood well (they live and work here). The holey game, read in the facade of Fitzroy Street, also cries out the difference.
Providing space in these arches and vaults for LGBTIQ+ communities can be seen as creating "queer space".3 A term that emerged in Western architectural thought in the 1990s to emphasize architecture as a lens through which to understand how power relations and identities, such as those related to gender and sexuality, are constructed, queer space refers to spaces that challenge heteronormativity and patriarchy and how these social systems organize people. It can mean a place where LGBTIQ+ people can congregate – like a center of pride – or, more powerfully, it can be used as a verb to challenge norms through the use of space over time. To extend this further, to queer space, or to act and design queerly, is to see beyond conventional uses, concepts and attitudes to a methodology that disrupts the ways in which the world, including its cities and its buildings, is built – because these environments have usually been built by and for cis (straight) men.
The challenge of BAU and GAA's architectural convention is evident upon entering the Pride Centre, where the threshold extends up to 26 meters. The threshold can be a place of internal transformation for the individual. Entering this building, for some, is an act of stepping out, of associating as part of something greater, and of participating in a collective experience of trauma, self-expression, celebration, or release. But thresholds are also important beyond identification. Architectural elements between two programmed areas – such as vestibules, atriums, porticos, courtyards, ramps, terraces, verandas or stairways – provide space for indeterminate uses that can resist the reproduction of roles and social structures. Here, perceptions of occupation are extended by perceptions of security; this is assisted by a throuple (concierge, cafe, and lounge) located in this three-barrel tunnel to provide multiple spaces that can thwart the dominance of a user group. Sightlines and clear exit points are other tactics to improve safety.
Passing through the threshold, another exercise in subtraction – an off-grid rotated ellipsoid – creates the five-level atrium void to break up deep floor patches. It's light and uplifting, with variations in solidity and transparency that make you feel like you're part of something bigger. A rostrum – an infrastructure for the performative in us, for there is nowhere to hide – conceals sight lines to a theater, bookshop and bar beyond. The theater is surrounded by a lush orange velvet curtain that hangs below a scalloped concrete ceiling, showing off the pageantry of embellishing a raw interior, like John Truscott's theatrical touch inside Roy Grounds' Hamer Hall. Here, dotted gum plywood panels and wooden window frames add material details that offset the starkness of the concrete walls.
While the ground floor promises flexible spaces for various users, the upper floors are cordoned off for multiple organizations. Security checks and rental amenities block some sight lines and access to Fitzroy Street balconies. Planted with banksias and fitted with overhead catenary lighting, these balconies serve as a viewing platform to observe the passage of traders and the annual Pride march. The portico is a nod to other St Kilda icons, such as Alan Powell's Princes of Wales renovation. At the rear, a scalloped facade retains the existing pepper trees and adds a softness to the residential elevation. These are part of other local subtractions and references that take place throughout the complex.
Above is the 1,000 square meter roof terrace with views over Nairm (the Boon Wurrung word for Port Phillip Bay) or through a wave of arches towards the city. One can also make out the 15-storey Arrandale apartment building on the Esplanade; its elongated hexagonal windows match those of the exterior concrete walls of this building. A 15-meter mast towers unashamedly above the roof, supported by 10 masts that pay homage to individuals. On a plaque is written: "In memory of my lover and best friend of seventeen years, John Paul McCutchan, who died of AIDS on February 15, 2008."
As a discipline primarily concerned with durable, immutable, and solid structures, architecture can struggle to deliver on the promise of producing queer space. This struggle is evident in this project. Institutional buildings order, organize and contain. While the Victorian Pride Center makes identities intelligible, it also makes them more governable and consumable. But it's a work in progress – which is the potential of both the center and the building. The project is "unfinished" by the architects due to both deliberate design intent and economical budget. (There's ongoing crowdfunding for future additions to the space, including looser fittings, while the architects work pro bono on some additions.) Its raw finish, with a strong column and beam structure , also leaves room for unpredictable uses in the future. To look and design in strange ways is to recognize that people, including their gender and sexual identity, and the spaces they inhabit, can be fluid. Over time, the Victorian Pride Center will contribute to this yearning for queer space, especially in spaces where boundaries and bodies are unregulated.
— Timothy Moore is Director of Sibling Architecture, Lecturer in Architecture at Monash University, and Research Fellow at XYX Lab. Nicholas Braun is director of Sibling Architecture and registered as both an architect and landscape architect. They were both part of a team consisting of Sibling Architecture and BKK Architects, which was shortlisted for the second stage of the Victorian Pride Center competition.